Social Media Vs Website for your business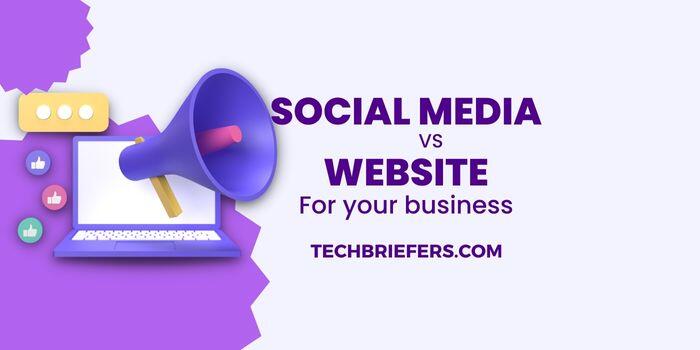 Many companies and even MSMEs are now turning to digitalization in their business processes. This is supported by the increasingly advanced era which results in buyers who prefer to buy products online. But there is a question in most minds that how to do it. This article answers this question by the comparison Social Media Vs Websites for your business.
It is undeniable that online shopping is more accessible and less time-consuming. For this reason, many companies and MSMEs use various digital platforms to introduce their products.
The digital platforms that are commonly used are social media and websites. Both have their advantages and disadvantages.
Then which one is more suitable for business social media vs website? This article will discuss the differences between websites and social media.
Is It Effective To Use Social Media For Business?
Currently, social media has grown widely. Not only used to share posts and socialize but now social media is also used for business.
If you often play social media, surely you will find a lot of social media from companies or MSMEs hanging around on your homepage.
Then why do companies use social media a lot?
Now before discussing further social media vs websites, it would be nice for you to know the advantages, disadvantages, and reasons why many companies and MSMEs use it so that you can better understand social media vs websites later.
Social Media is free to promote your business
The advantages of social media vs. the first website are won by social media because you can use various features they have for free!
Especially if you want to use it to introduce a product. But it's a different story if you want to advertise, then you have to pay more yourself.
Social media is closer to consumers
The next point that can be used as a comparison between social media and websites is the ability to interact with consumers.
Social media makes you closer to consumers because you can interact directly, such as by communicating through messages, comments, and various other reactions.
Also Read: How To Create LinkedIn Ads: The Complete Guide
By creating attractive profiles on social media and page views, you can attract the attention of customers.
With No Limit Online Loyalty, you can take advantage of fun campaigns. This will increase engagement and increase brand awareness.
Reach a wider market for your business
Social media can be accessed anytime and anywhere, without any significant barriers. This is certainly very beneficial for business people who want to develop their businesses.
Social media is a bit easy to use
If you use social media then you don't need to study too long, because posting content on social media is quite easy with just a few clicks you can create content! So social media vs websites this time, social media is superior in its use.
However, social media also has drawbacks if you use it in business, what are the disadvantages? The following are the disadvantages of social media.
Also Read: Content Types To Increase Social Media Engagement
Social media gives Limited platform design
You can't change social media according to the character of your business. So content is one of the main things to reflect your business.
In addition, social media does not support email lists that can be used to attract potential customers.
As we know that everyone is free to comment on m anything on social media.
Now, this can be a drawback because you can't limit negative comments.
Competition is fierce
The more businesses that use social media, the more competition in it is also getting tougher.
Customers are not too trusting
Even though social media makes it easy to get potential customers.
However, online transactions between potential customers and business people do not meet face-to-face. This is sometimes the reason why customers do not trust.
After knowing more about social media, as a comparison of social media vs website later, let's talk about the website first!
Also Read: LinkedIn Benefits For Business Less Known
Should You Choose a Website for Business?
Websites are the main choice if you want to develop a professional business.
However, many ordinary people think that creating a website is a difficult thing to do.
That's the reason they don't want to build a company website.
Even though there are many things that can be obtained if you use a website in the business.
For ordinary business people, you can contact us to create a website so that your business website can be realized. So, what are the benefits of a website that you can feel?
The website gives you extensive control
You can control your website according to your needs. The difference between websites and social media here is quite visible.
If on social media you can't control who can comment, now if you use a website for business, then you can set which comments you want to display.
When viewed from the broad control capabilities, in the discussion of social media vs this website, the website is superior to social media in terms of platform control.
Free to determine the design according to your needs
As we discussed earlier that social media cannot be designed according to needs. This is also a visible difference between websites and social media.
If you use a website, you can determine the themes, colors, icons, and images that will be displayed according to your business.
In the point of freedom to determine the design in the discussion of social media vs website, the website is the winner.
Also Read: Top benefits of having Email on Own Domain Name
Website Helps in branding
Social media and websites can indeed be used for branding.
But in this case, the difference between websites and social media is that if you use a website you can do branding through content and product introduction.
Usually, on the website, there is an "About Us" page that can be used for branding.
In addition, by sharing articles or writings on websites by utilizing SEO techniques, your website can have a top ranking on search engines so indirectly you can reach a wider market and do branding.
Increase the credibility of small businesses
Websites also increase credibility! The reason is that by having a website, your business will look more professional so that potential customers will believe in using the products or services you offer.
On the point of social media vs this website, the website is superior because it looks more professional.
Behind the many advantages that you can get, the website also still has some disadvantages such as.
The website includes a cost, as it's not free
We know that to create a website there are costs that you have to pay to pay for servers, domains, and hosting, and if you use the services of an expert then you also have to incur additional costs.
Need more learning
In use, the website is not as easy as social media, so you have to pay attention and learn the various functions and strategies needed so that your website has optimal performance.
Ah, from the difference between websites and social media, social media is still superior because its use is quite simple.
So Who's the Winner Between Social Media Vs Website?
So how are you getting confused about which one is better when viewed from the difference between websites and social media?
Indeed, if you study and pay close attention to social media vs. this website, it has advantages and disadvantages that can actually complement each other.
To start a business and develop a market, you should use social media and websites so that your potential customers are really sure to choose your product.
Usually, in social media, a business or business is equipped with a website link listed in the social media bio.
Why Not Use Both Together?
Many companies are using social media and websites at the same time.
This will actually make it easier for you to do marketing. Both can be connected to each other, whether a website that includes social media or vice versa.
Instead of being confused about determining the effectiveness level between social media vs website, let's find out who you can inspire!
Also Read: Online Business: Definition, Types and Benefits
Scarlett Whitening
Scarlett Whitening is one such business that uses these two platforms simultaneously.
Since 2017 as a facial and body care brand, Scarlett products are now booming and widely used.
With the theme of beauty, Scarlett has content on Instagram that is very interesting and easy to receive information.
Not only that, their website looks very simple but still sells.
Various social media are displayed on the website, making these two platforms even more closely connected.
From Scarlett Whitening there are some things we can learn
The appearance of the website as well as social media is harmonious and in accordance with the targeted target market.
The content presented on Instagram social media is also informative and attractively packaged.
Content that is uploaded regularly makes Instagram followers even more tempted by the various products offered.
MS Glow
Brands that are currently being discussed and even become sponsors of several events and well-known football clubs.
Presenting various types of care products since 2013, now MS Glow has mushroomed everywhere.
This brand owned by Shandy Purnamasari and Maharani Kemala also uses websites and social media to market their products! It's no wonder that now they have become a pretty big grooming brand.
So what can we learn from MS Glow?
Have an informative website equipped with various products offered along with prices and ratings of these products.
On the website, there are several very informative menus regarding the location of the clinic, official sellers, testimonials, and even the Instagram feed is also displayed on the website.
Instagram content is always updated and packaged to provide information and even beauty tips.
J.Co Donut & Coffee
J.Co Donut was first officially opened in 2005 and now has outlets spread across the world.
Starting from the first outlet at Supermall Karawaci Tangerang, Johnny Andrean, the owner of this business, saw a great opportunity and indeed the outlet was always crowded with customers.
From there J.Co began to use various platforms to expand its market by building websites and also utilizing social media.
There are several things we can learn from this J.Co.
J.Co's highly interactive website is sure to make visitors feel at home and linger to read the various packaged information.
The theme carried on the website and Instagram is in line with a very neat and organized arrangement.
Instagram content that packs informative and selling posts.
Try Combining Website and Social Media for Business!
After we thoroughly discuss the differences between websites and social media, are you interested in using both?
If discussed one by one, websites have advantages such as extensive control, customizable designs, helping to brand, and also increasing business credibility.
But social media also doesn't want to be outdone by having various free features that can be used, reaching a wider market, closer to consumers, and also easy to use.
The difference between websites and social media can be a very good combination when combined.
So you don't need to be confused about who is more effective between social media vs website anymore! You better use both for optimal results. Good luck!