What is Domain Authority? How to increase Website DA?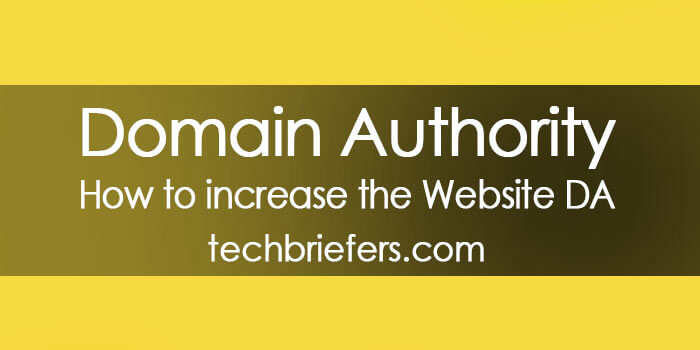 All that a new or old blogger needs is that the post written on his blog appears on the first page in Google, but it is not so easy to show your blog on the first page in the search engine. But it is not so difficult because everything depends on Search Engine Optimization. If I look at SEO, there are many different factors but here we are going to talk about Domain Authority, what is DA (Domain Authority) and how to increase the Domain Authority of your website?
Domain authority: This factor has now become the top and important factor of SEO. The higher the domain authority (DA) of your website/blog, the better the search engines will rank your website/blog.
If you are in the blogging field, then you should know about it and think about increasing the domain authority of your blog. In this article, you will get complete information about it.
What is Domain Authority?
Domain authority is a search engine ranking grade or score that is between 0-100. This grade gives Moz which is a popular company offering many SEO tools in the USA.
From the domain score, it shows how likely you are to rank your domain in the search engine. The higher the score of the blog, the more I will show in that ranking.
That is, one website has a score of 30 and the other has a 40 to 40 rank website that will be in the top in search engine results pages (SERPs).
For example, you can see Wikipedia, whose DA score is 100 and its pages are always at the top in the search engine.
Domain authority depends on many factors. If you are thinking that you have started a blog today and the domain authority of your blog will be 40 to 50, then it is not possible at all.
To increase the domain authority of the website, you will have to work on SEO. It is very easy to increase the domain authority from 15 to 30 but if you talk 65 to 75 or 75 to 85 then it is very difficult.
Now you must have known what DA is, so let me tell you about my "How to increase domain authority of blog and website".
How to increase Domain Authority of your website?
To increase your DA score, you have to improve your blog by making a tremendous strategy. You will have to write many articles with very good content and have patience.
For this, you have to take care of some things while writing content and after publishing it, so that you can increase the authority of your domain. Let me now tell you 7 good ways to increase domain authority.
#1 Quality Content
The best way to increase domain authority is to publish high-quality content, quality content is the best.
Why should you do anything without writing quality content, but it will not rank top in search results and you will not get the traffic you want.
Also, when your readers will come to your site and read your low-quality content and they will not like it, they will never come again on your blog or website.
#2 On-Page SEO
On-page SEO is also important in increasing the DA score. For this, you have to focus on on-page optimization while writing the post and write the metadata of your website properly.
With the help of on-page SEO, your DA will grow quickly, the factors that come on-page SEO are as follows.
Targeted keyword: Put your permalink and first paragraph in the keyword on which you want to rank your post. Focus mostly on long-tail keywords that are easily ranked.
Keyword density: Do not use the Focus keyword repeatedly and if possible, you should keep it at 1.5 to 3%.
Permalink: In the post permalink you use the focus keyword. If the title of your post is "What is Blog?" So, its structure should be something like https://example.com/blog-kya-hai/
Meta description: Remember to fill your Meta description and use your focus keyword in it.
Heading tags: Use Heading tags (H1, H2, H3, H4, H5, and H6) according to the requirement in the post.
Optimize Image: The image you are adding to the post must be optimized.
By focusing on these topics, you will be able to optimize SEO well; you can read our article for more information about on-page SEO.
#3 Internal Linking
Well done internal linking not only helps in increasing your domain authority but also you can reduce the bounce rate of your website.
For this, whenever you write a post, add a link to your old posts related to its content, this makes the post more informative and attractive.
Its biggest advantage is that your user gets a chance to go from one post to another post, which reduces the bounce rate.
#4 Generate High-Quality Backlinks
Here it is clearly written high-quality backlink which means that we are talking about making high-quality backlinks.
If your DA is 31 and you are taking a backlink from a website with 20 DA then you will not benefit much from it. Create backlinks from sites whose domain authority is good.
Also, do linking to the site with relevant content from your site. Do not create backlinks from such a website that is not related to your website, like making backlinks from health blogs for a tech blog.
Many bloggers buy backlink from sites like Fiverr and create low-quality backlinks, which causes the blog to turn upside down rather than profit. You should not get caught in it and make the mistake of buying a paid backlink.
Sure it will take some effort but manually build backlink from a good website. For example, share your post on a social media website. Almost all social sites have good domain authority.
#5 Fix Broken Links
To maintain the ranking of your site in search engines, it is necessary to fix or remove bad and harmful links from your website. If you do not do this, then slowly your site will be ranked down.
This work is similar to creating a quality backlink. You have to fix broken links from all posts on your site. To find broken links, you can use the broken link checker plugin or broken link finder tools.
#6 Domain Age
The age of the domain helps in increasing the search ranking and domain authority of your site. To say that if your site is 2-3 years old and updated regularly, it means that you are constantly publishing quality content on it.
That is why if your site is not spam then your site will rank well in Google search results. But this does not mean that a site with a new domain will not rank in Google.
Now you have to work sparingly and keep publishing quality content as your domain age increases. Gradually your DA score will increase.
#7 Regular Updates
Publishing quality content on blogs regularly is one of the best ways to increase domain authority. If you write continue post on your blog, and then you do not have to worry about DA.
I know this is not easy but to get a good DA you have to do it. If you do not update regularly, your DA will continue to go down.
You just focus on writing articles with quality content on your blog, your domain authority will increase by the time.
There are many more benefits of sharing regular posts, traffic will increase on your site, your writing skills will also improve and you will get to learn a lot new things.
You can boost the domain authority of your blog in these ways. Now let me show you how to check the domain authority of your blog.
How to check your Blog's Domain Authority?
There are many tools available online to check domain authority, with the help of which you can find the authority of your domain. But Moz Open Site Explorer tool is the best for this.
For this, you have to follow these steps,
Here you can see that our site has domain authority 9 for now. If you follow the methods mentioned in this post, after a while the DA of your blog will also reach more.
In this way, you can also know the domain authority of your competitors' website.
As I mentioned above, you cannot increase the domain authority one day, but I have also told you how you can check the DA of your blog.
Remember that good domain authority means good ranking in the search engine. All you have to do is to keep writing good posts on your blog regularly and be patient.
So here, with the information we have shared with you, you will be able to increase the DA of your blog easily. If you like our information, then definitely share it further.