How to Create SEO Friendly Articles on Blogs & Websites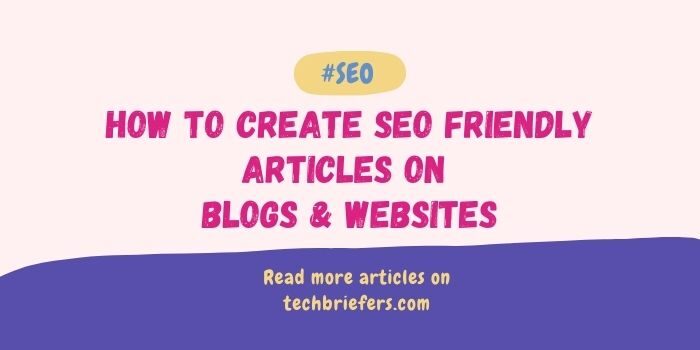 Articles are one type of content that is needed if you have a website or blog. Whether for a business website, portfolio, or photo gallery, you can use articles to bring your website up in the rankings on search engines like Google. Therefore, you need to learn how to write SEO-friendly articles on your blog and website.
From keyword research to promotion and article updates, here are 15 powerful ways to create SEO-friendly articles for blogs and websites that you can apply right away. Curious? Check out the following discussion.
How to Create SEO Friendly Articles
Before knowing how to write SEO-friendly articles, you should know that Google will always evolve and develop its algorithms when providing ratings for content that appears on their search page or Google Search Engine Result Page (SERP).
SEO-friendly articles are articles that are useful for readers as well as 'liked' by Google. Therefore, your job as a writer is to develop your writing so that it is useful for readers and can rank high enough on Google search results pages.
Also Read:  SEM and SEO: Differences in Benefits and Uses
Google's algorithm will continue to grow, so you must be up-to-date with the development of how to write SEO-friendly articles. Check out the following important points which are the main basis for how to write articles that are SEO friendly, useful for readers, and 'liked' by Google.
1. Find relevant keywords for writing SEO friendly articles
Keyword research or keyword research is the first way that you must do to write SEO articles. Look for keywords that are relevant to the theme of your website and maybe frequently searched by your intended audience. You can find inspiration using free tools like Google Trends.
Then, determine how many searches the keyword has by checking the search volume using a tool like SEMrush. In addition to knowing how much search volume is, this method can of course also make your articles more SEO friendly.
2. Understand the reader's search intent
Google will give better ratings on articles that are in line with their principle of being able to provide answers for users. The users in question are those who type keywords in the Google search bar . This is what is called the search intent or the purpose of the reader's search.
Before writing an SEO article, you must first determine what questions your article can answer. If readers think your article can answer their questions, then Google will consider your article to be a recommendation for other users in search results.
3. Define an interesting title
To write SEO articles, you must also be good at stringing words that attract users' reading interest.
You have a fraction of a second to convince your readers to want to read your article, namely through the title. Therefore, determine an interesting title that can represent the content of the article so that readers feel the need to know what information is in your article.
Although there is no limit to the number of letters or words for creating titles in the WordPress CMS, you should not make long-winded titles, lest the title does not match the content of the article, and of course, it must be easy to understand and interesting.
Also read: What is Affiliate Marketing Program and its Benefits
4. Create article structure
When creating an article, especially for SEO-friendly articles, you must have a clear structure so as not to deviate from the main topic. In addition to being a benchmark so that your discussion does not deviate, the article structure can also make it easier for you when explaining the contents of the article.
The easy way, position yourself as a reader, then estimate what answers you want to get from the article. If it's still difficult, you can consider answering the basic 5W+1H questions (What, Who, When, Where, Why, and How).
5. Use headings and subheadings
Headings and subheadings are the same as the subtopics of an article. Using headings and subheadings can help you maximize and beautify your article structure. Because the heading will be the element that divides the article into several main subtopics.
When determining the heading, pay attention to the search intent you are aiming for. If your article is made in the form of a listicle ( list article ) such as reviewing "Top 10 Best Staycation Hotels in India" or "15 Fried Potato Menu Ideas", then you should place heading 2 (H2) after H1 or the title.
However, articles that cover a topic in-depth such as "A Complete Guide to Installing Adobe" or "Making Banana Bread Tutorials" usually require using headings in a different way. You can just use headings at levels H2 to H4. But for sure, don't jump over the heading level, okay?
6. Maximize meta titles
Unlike the title or H1, the meta title will later appear in search engines. This title will be 'read' by Google as an assessment to determine ranking in search engines. The condition is, use 50-60 character letters so that when your article appears in search results, the title will not be truncated.
In addition, you also have to create a title that can attract the interest of the reader. The trick, point to them specifically. For example, "5 Tips for Burning Calories for You who are lazy" will be more interesting than "5 Tips for Burning Calories".
7. Meta description optimization
Meta description is often used as an assessment also by Google. So make a meta description that contains keywords and can lure readers to click. For example, you can include a call to action (CTA) or a question sentence to provoke curiosity.
In addition, make sure the meta description that you create can also represent the content of your article. Then, so that your article is SEO friendly , don't make a meta description that is too long, just 120-150 characters.
8. Image optimization to make the article SEO friendly
Not only meta descriptions, but you also need to optimize images as a way to create SEO-friendly articles. Image optimization aims to shorten the loading time on the website. Because websites with slow load times can get a bad rating from Google, which can lower your website's ranking.
Therefore, you need to pay attention to the size of the image used in your article. You can reduce the image size through websites such as TinyJPG or TinyPNG. In addition, you are also required to add alternative text to describe the image so that Google understands what images are in your article.
Also Read: SSL certificates, 5 reasons why you need one
9. Take advantage of internal and external links
Internal links are links or links that point to other articles on your website or blog. You can include this link in the article so that website visitors are interested in reading your other articles. You can put an internal link in the middle of the article in the form of an article recommendation or as anchor text, which is a clickable piece of text.
On the other hand, there are also external links that point to other websites. The goal is to ensure the correctness of the data or evidence that you attach to the article. Although it doesn't have a direct impact on the SEO of your article, you can use this method when exchanging articles with other websites.
10. Shorten the writing per paragraph
Using 3-5 sentences per paragraph may be applied in the context of discourse that we have learned in school. However, this rule does not apply to how to write SEO friendly articles on websites and blogs. This is because the level of focus of readers on the internet is lower than that of book readers.
Therefore, make writing short and clear in your article. Instead of using 3-5 sentences, you can write 4-5 lines of sentences in one paragraph with a maximum of 20 words per line. The shorter the writing per paragraph, the better. But, make sure the message you mean is still conveyed clearly, yes.
11. Adjust the length of the article with keywords for SEO friendly articles
Even if your article is long and comprehensive, it doesn't mean that Google will give you a good rating. Because the reason comes back to the search goal or search intent of your readers.
If you create an article review ( review ) or may create an article on the definition of a term, it would be better if the article content is not more than 1000 words, because the readers just need the core. It's different if your article needs to be discussed in depth, such as research results or a listicle ( list article ) that requires a comprehensive discussion.
12. Make sure your article is worth reading
The articles you create can reflect the image or image of the website that you manage, both business and personal websites. Therefore, make sure you can present articles that are worth reading. For example, comply with the rules of writing SEO friendly articles, reduced typos or a typo, and avoid statements hoax.
In addition, at least you must also be able to master the use of good and correct language. No less important, make sure the sentences you write can be understood logically by the reader. Because, in addition to being SEO friendly, you are also required to write user-friendly articles.
Also, pay attention to the use of focus keywords. Don't overdo it, and don't go too little. Adjust the amount of use of your focus keywords with the length of the article so that the density is not too high and not too low.
13. Double-check the article to be SEO friendly
A good article is a finished article. But, it never hurts to make sure your article is worthy of showing. You can ask your friends for help to correct if there is something that can be corrected or is still wrong in your writing.
But, if nothing else can help you become an editor, you can leave your writing for at least a few hours, then reread the article and position yourself as a reader. If necessary, you can use Google Docs to check for typos in your articles.
14. Promote articles
After you have finished writing, the next way to make SEO friendly articles is to promote your article after publication. Because your article needs a few clicks at the beginning of its appearance on the internet to get Google's attention. If it is interesting and useful for readers, Google will immediately provide an appropriate ranking.
The trick, you can promote it manually to your friends or share it on social media. You can also add share buttons to social media using the plugin installed on the website.
Also Read:  Tips to improve Alexa rank of your website
15. Update articles regularly
Updating articles regularly can help your readers get the latest information. In addition, this step can also have a good influence on the SEO of your website. Because Google will give better value to websites or blogs that are still active.
In addition, you also need to produce new articles consistently so that your website visitors can get the latest articles from your blog. Therefore, don't limit your creativity and keep working.
In addition to the 15 powerful ways to write SEO-friendly articles above, pay attention to the quality of the content you present, yes. Use the tips above as a guideline, but make sure you can also express your ideas and creativity optimally.
Examples of SEO Friendly Articles
If successfully applied, your article can be ranked at the top of Google search results. One example is the following Techbriefers article which was ranked 0 ( featured snippet ) in Google search results for the topic of How To Change Phone Number In Gmail Or Google Account.
However, you can't be complacent just yet. Given that Google's algorithm will continue to evolve, you must also always be up-to-date with existing updates. Just like Google's algorithm, you can't stop developing and evolving, right?
If you want to maximize how to make SEO-friendly articles for your website, you can use SEO tools, such as Google Search Console, Yoast SEO to Schema Creator. Read more in full from the article 15 Cheap, Free, and Best SEO Tools to Analyze Your Website.
Conclusion
Thus 15 powerful ways to create SEO-friendly articles for websites and blogs that you can learn to start writing articles. Hopefully, you will be able to write a catchy blog article now. If you have any queries or doubts, feel free to write them down in the comment box below.