Tips to improve Alexa rank of your website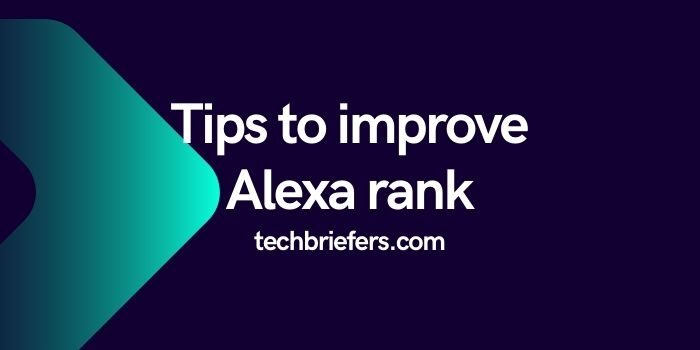 After Google Page Rank, you must have heard about Alexa Rank. Many advertising agencies pay great attention to this because it is directly related to your blog traffic. The lower the Alexa rank, the better the traffic of your blog.
Google is not going to make any updates on page rank anymore. But there are many metrics like Domain Authority, Page Authority, Maze Rank, Quintcast etc. which can determine the rank and value of a blog. These factors are updated once a month, while Alexa Rank is updated daily. Everyone should keep an eye on their Alexa rank and keep trying to reduce it below 1 lakh.
You believe it or not, but even today many advertisers assess the popularity of a blog by looking at its Alexa rank. The lower the Alexa rank of the blog, the higher the value of ads on its site can be found.
What is Alexa rank
Alexa.com is now an analytics company that ranks every site and blog based on their traffic and other parameters. Alexa rank is updated every day, the lower the rank the more popularity. A low ranking means that a site with an Alexa rank of 100 is better than a site with a rank of 101 Alexa. It is like having a first class.
How do alexa rank look
You must have been a bit shocked, but Alexa ranks based on invalid surveys. Alexa ranks only those sites that install their toolbars in their web browsers, or place their widgets on their sites.
People who are a little serious about blogging also take Alexa and use its toolbar, we also recommend you to install it.
How to lower Alexa rank
Alexa ranking can be reduced by installing the Alexa toolbar and increasing traffic. Increasing traffic depends on your writing and content sharing. I give some tips that will be helpful.
Today, almost everyone is on Facebook, and there are many groups on Facebook that have thousands of active members. You should share your posts in an active group related to your blog, this will get you a lot of readers and will increase the traffic of your site.
#2. Focus on Google+
Not many people are using Google + but there are enough number of active people who can become readers of your blog. So you should create a Google Plus collection and share your posts by connecting with the communities.
#3. Increase Blog Attraction
Anyone who is blogging or wants to make a blog wants to know more and more about blogging so you should keep a section of blogging tips on your blog targeting such people. So that people come to know something on your blog. If you don't do this, you can also share your blogging experience. You can keep a competition, a free ebook download or something like that.
#4. Use the Alexa Pro service
You can take advantage of Alexa Pro service when your keylog starts generating revenue and traffic also improves. This can help your blog a lot.
Those who focus on content building, their ranking continues to grow without much effort. You must try our suggested tips, this will give you complete help in reducing your rank below 1 lakh.
You can check the ranking of your or any other website here.
Check some more useful articles here.