How to Change Phone Number in Gmail / Google account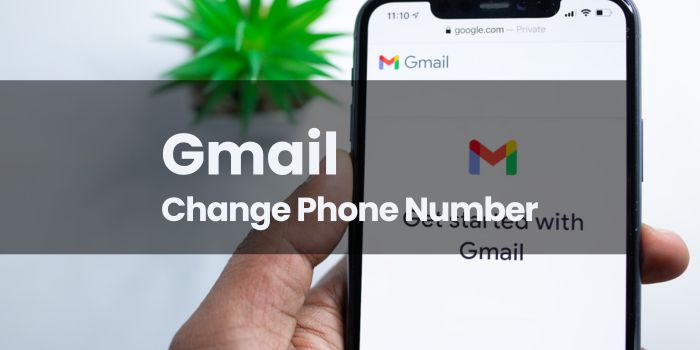 Before learning how to change your phone number in Gmail or Google account, let's know how significant the phone number to account is. In our interconnected world, email has become a very important tool for communication. Whether it be business communication or a personal draft, we email as a way of communication. Around the globe, the most widely used email platform is Gmail.
Your Gmail account is closely connected to your contact information. This also includes your phone number in your Gmail account. This is an important element for security and Google/ Gmail account recovery. But what happens when you want to change your phone number in Gmail? Whether you're changing your job, moving to another country, or buying a new phone. To Change your phone number in Gmail is an easy process. To change your phone number in Gmail, follow these straightforward steps that I will be guiding you through in this article on How to change your phone number in Gmail or how to change your phone number in email.
Importance of phone number in Gmail Account
The mobile number associated with your Gmail or Google account is used for many purposes. One of these purposes is to provide a quick way to recover your account if you're logged out and do not have an alternative recovery method. Using a phone number as a recovery method is a very quick and safest solution for you. You can also opt to log in with your phone, which makes your account more secure and a quick login system is available for you.
You can change your phone number at any time. To change the phone number in your Gmail/Google account you will need to update it in your Google account settings. You can change your Gmail phone number either on a computer or a mobile device. In case of using a mobile device, you can use either the mobile version of the Google account website on a mobile browser, or
Below are the steps to change your mobile number in your Gmail/Google account on your computer:
Step 1. Log in and go to Google account settings.
Login to your Google account via Gmail or Google homepage or anywhere else while using google accounts. (Google uses one account for all Google products). After Login, you will see an image (your uploaded profile picture or your name initially turned your profile picture) at the top right corner of the Google web page. Click on that image. You will get a Google account button there. Click on that button.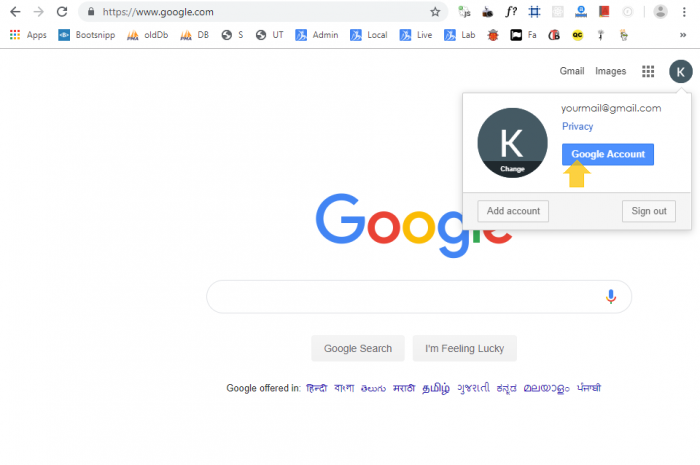 Step 2. Personal info tab
After clicking on that button you will get a screen shown below. Click on the Personal info tab.
*Screen with larger screen width will have this tab on the left side, here it is on the top.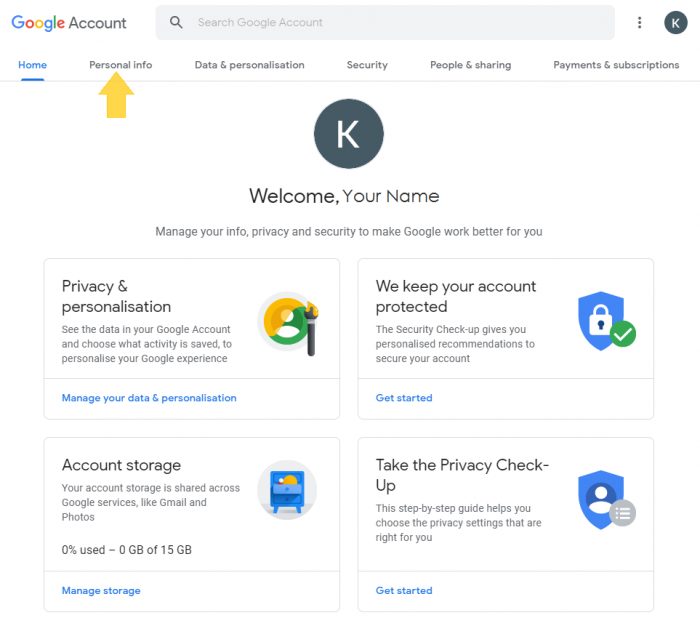 Related Read: How to connect domain email to Gmail account
Step 3. Click on PHONE to change
By opting for Personal info, you will get this screen where the Contact info section will have a phone number. Click on the PHONE row.
Step 4. Select the number to change
After clicking PHONE, you will be shown your phone number and status(verified). Click on that.
Step 5. Edit phone number
Now you will get the option to edit your phone number when you will click on the 3 dots present on the right side. Click on the edit option in the dropdown menu.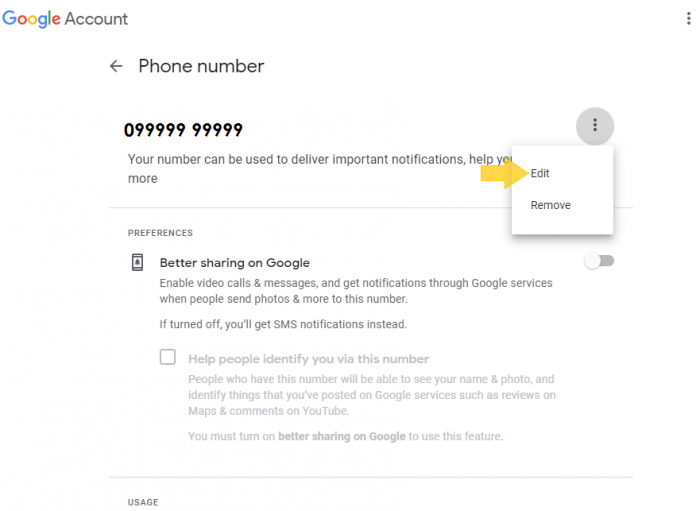 Step 6. Enter the password to confirm
Now you will be redirected to the login page to re-enter the login password. Complete that step and click on Next.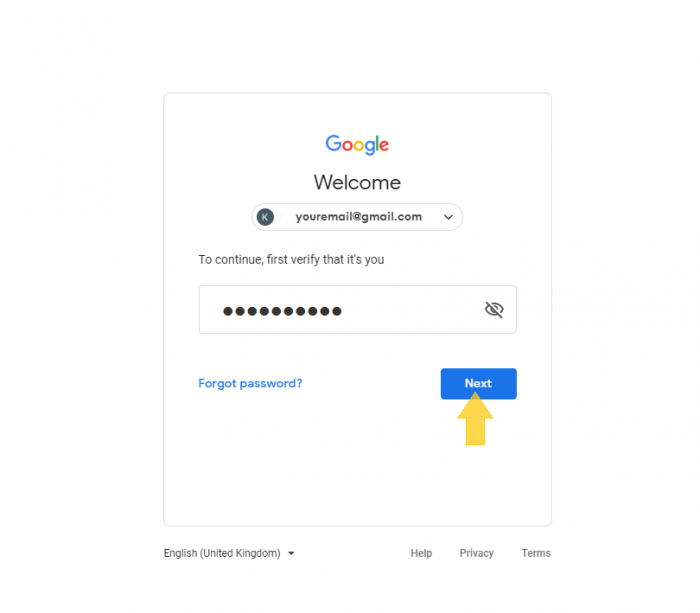 Step 7: Finally edit the number
Now again you will be redirected to the same page as in step 5. Click on the Edit option.
Also Read: Get to Know Google Analytics 4 (GA4): A Complete Guide
Step 8: Update the number
Now you will get a Popup asking to UPDATE NUMBER or cancel. To change the phone number, click on UPDATE NUMBER.
Step 9: Confirm that you selected the entered number
Now that popup will have the option to type in a new number. Enter New Number in the textbox and click SELECT.
Step 10: Final confirmation of the phone number in the Google account
After Selecting that number it will show a confirmation to proceed to the next step. Click on NEXT to proceed.
Step 11: Get the Verification code
As you will click on NEXT, your number will be ready for confirmation. The screen will have the option to get a confirmation code. Click on GET CODE.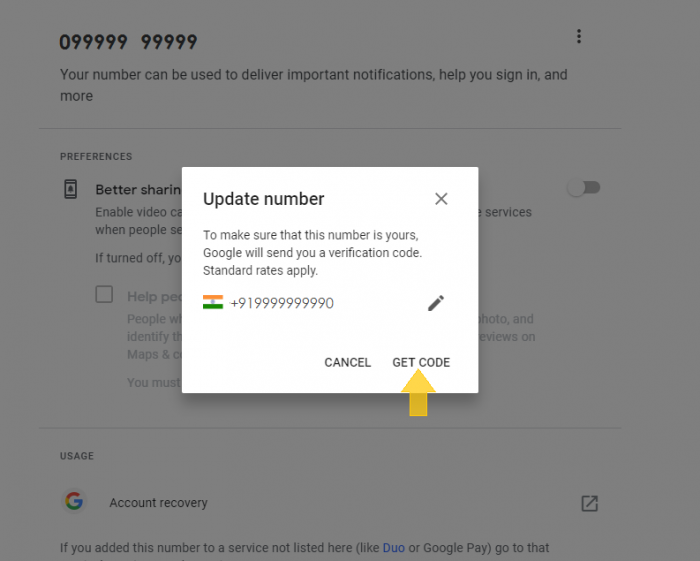 Also Read: Gmail Mail Merge Tutorial: Free Email Blast
Step 12: Enter the code to verify the number for your Gmail/Google account
After clicking GET CODE, you will receive a Google verification code via SMS on that phone number. On the screen, that code will be asked. Check your phone and enter the six-digit Google Verification code and click on VERIFY.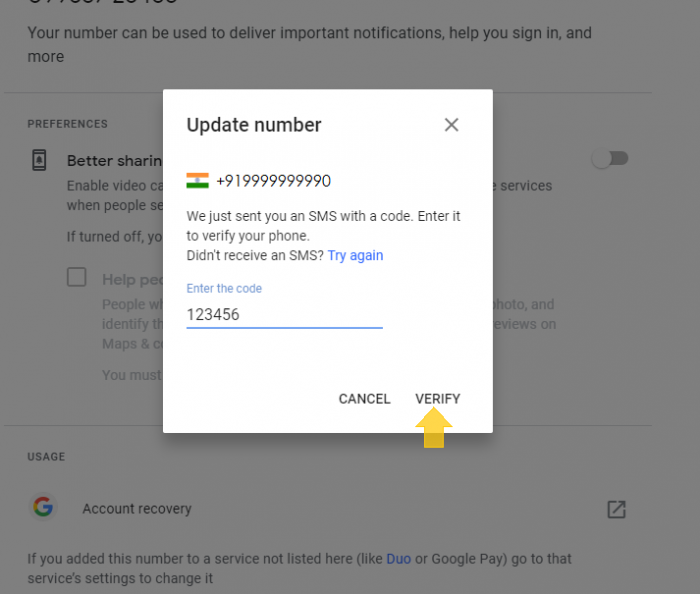 If you have entered the correct Google Verification code your phone will be successfully verified.
** I have edited the screenshots and replaced the original credentials with demo data(sample data) which is not related to anyone.