How to Create LinkedIn Ads: The Complete Guide
During this time, you may know LinkedIn as a social media for professional workers. You can find work and connect with professionals from all over the world. But did you know that you can also advertise on LinkedIn? Here we are going to know: How to Create LinkedIn Ads?
Just like other social media platforms, you can place ads on LinkedIn. LinkedIn which is devoted to business has its own advantages. Advertising on LinkedIn can be very effective for B2B companies and organizations.
With LinkedIn Ads, you can choose the type of ads they provide to reach the right audience for your business.
Why use LinkedIn Ads?
LinkedIn has introduced quite significant feature and usability upgrades. With this upgrade, they have managed to build a community where 40% of its users open LinkedIn every day. Some of the updates are:
Better mobile apps
A neater appearance of desktop apps
Richer content features
Spam management
Video
With the user experience constantly improving, more and more people are spending their time on LinkedIn. In self-advertising, this way of promoting on LinkedIn offers the following advantages:
Advanced targeting features. You can set your target audience based on job title, function, and industry.
Choice of various types of ads.
Flexible budget control.
Tools for lead generations to increase conversion rates.
Tracking and Analytics Tools to measure your ads performance
Multiple Language Options
Also Read: What is CPA Marketing? How It Works and Its Benefits!
Types of LinkedIn Ads
No matter who your target audience is, whether executives, influencers, or job seekers, LinkedIn provides various ways to advertise on their platform with different types of ads.
LinkedIn self-serve ads
To create an ad on LinkedIn, you need to access LinkedIn Campaign Manager. Campaign Manager allows you to schedule campaigns, target your audience, and see the industries, job functions, and seniority levels that clicked on your ads.
Currently, there are three LinkedIn ad options you can choose from: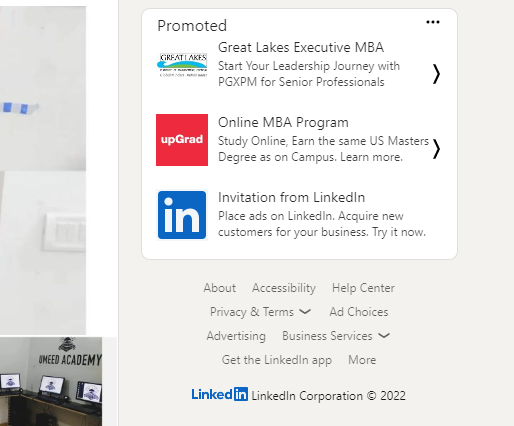 Sponsored content allows you to share posts to your company's LinkedIn with a target audience that you define yourself. This type of advertising can help you spread the word about your company.
Articles about your business industry, Slideshare presentations, and videos from YouTube or Vimeo to a wider audience. This type of ad will appear on the homepage feed – whether desktop, mobile, or tablet – as well as on the right side of the LinkedIn desktop homepage.
If you have a new video about your company or a promo that only lasts a day, sponsored content is one of the most effective ways to get your LinkedIn content out there.
Text Ads
Text Ads are commonly used by people to collect traffic to your company's LinkedIn page or website. This type of ads can only appear on the desktop.
For this ad, you need to provide an attractive headline, description and images. Text ads can appear in the "Ads You May Be Interested In" section and as text ads that appear at the top of a LinkedIn page.
Sponsored InMail
Sponsored InMail is a type of ad where you will send a personalized message to your targeted LinkedIn users via LinkedIn Messenger. LinkedIn users will receive the email when they are active on LinkedIn so they can get your message right away.
This type of Ad is an effective one if you want to create a more personalized approach to increasing your conversion rate .
LinkedIn Display Ads
Display Ads are a type of LinkedIn programmatic advertising. This means you can buy ads through your preferred ad platform or private or public auctions.
Display Ads allow for a wider variety of media, including text, audio, video, and images, which makes them more engaging and interactive.
This type of ad can help you showcase your business in front of the audience you want to promote your business and increase brand awareness .
Dynamic Ads
Dynamic Ads is an ad type that is very easy to customize and personalize. They are dynamically generated according to the activity of your audience.
For example, if LinkedIn knows someone who is looking for work in your industry, you can target them at the right time with the right message. You can write your own ad copy, choose your own call-to-action, and use dynamically generated images from LinkedIn member profiles.
These kinds of ads are very useful for building relationships and delivering personalized messages to your audience.
How to Create LinkedIn Ads
Before you start creating LinkedIn Ads, you'll need a company LinkedIn account. If you already have a LinkedIn account, you can easily create LinkedIn Ads.
Go to your Campaign Manager account
If you already have a LinkedIn account, access Campaign Manager once you're logged in, and you'll be taken straight to the next step.
Choose the type of Ads you want
The next way to advertise on LinkedIn is to choose the type of Ads you want to create. You can create a campaign and use all three formats to achieve maximum impact and reach.
These three types of ads will ask you to create a campaign name and choose a language that suits your target audience.
If you choose sponsored content ads, you will also need to select the call-to-action option:
Create Your Ads
The campaign manager will guide you to create ads by displaying the specs of each ad type and tips while you are doing it. The following is an example of the options available in creating a Text Ad.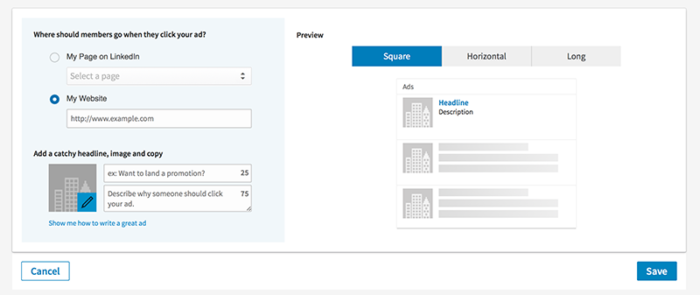 Target Your Ads
Next, you get various options for targeting your ads to the right people, including location, company name, school name, job function, skills, and other filters. You can save your selection as a template to speed things up when creating new campaigns.
You can choose from cost per click (CPC) or cost per impression (CPM), or cost per send for InMail ads (which means you only pay when your message is delivered).
For CPC and CPM, you can set a daily spend limit and bid price. Bidding is what you pay the most per click or impression. You can also choose a start and end date for your campaign.
At this stage you can also add conversion tracking (only for Sponsored Content and Text Ads). This lets you track specific actions so you can better measure, and then improve, ROI. This includes registration, installation, download, and purchase.
Measure and improve your LinkedIn Ads
Campaign Manager gives you access to a variety of metrics to help you measure and optimize your campaigns. This includes impressions, clicks, and spends.
LinkedIn also lets you measure "social actions," which capture how LinkedIn members interact with your content. From this data you can then see how you can continue to optimize your campaigns.
Also Read: Content Types to Increase Engagement on Social Media
The knot
LinkedIn as a social media specifically for business and professional activities, can be the right place for you to promote your business. Especially for B2B businesses because you can find and deal directly with various professional business people around the world.
In this article, we've also told you how you can start an ad on LinkedIn. I hope this article is useful!