Top 10 Ways to Make Money from the Internet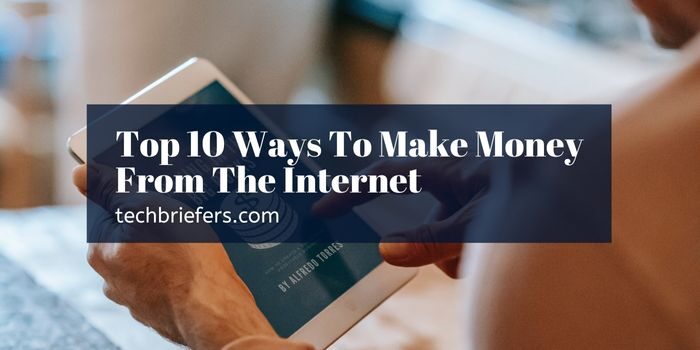 In the face of technological advances that continue to develop rapidly, the internet has become everyday food. To avoid being left behind, you also have to understand how to earn money from the internet. Want to know how? Let's discuss.
Based on research by WeAreSocial.com and Hootsuite, at least until April 2022, 63 percent of all people on earth are now online. 5 billion people now use the internet, with the global total increasing by almost 200 million over the past year.
If used optimally, it is possible that you can benefit from doing business on the internet in addition to your main job. What about? Check out the discussion of seven ways to get money from the internet below.
How to get money from the internet
Here's how to get money from the internet that you can try. Please listen!
1. Become an online media contributor
Currently, online media has become one of the leading media that is often used by those who have internet access.
In order not to miss this opportunity, you can start writing about something you like and then register yourself as a contributor in online media such as HubPages, Medium.com, Substack, or Wattpad.
Apart from being a way to earn money from the internet, your writings can later be used as your portfolio, you know!
2. Manage YouTube channels (tutorial content, DIY, traveling)
Yes, managing a YouTube channel can also be one way to earn money from the internet. How not, based on research from WeAreSocial and Hootsuite as of June 2022, Facebook is currently ranked first as the most used social media platform in India. Instagram is the second, and Youtube is ranked third as the most used social media platform in India
Some content ideas that you can create are tutorials, Do-It-Yourself (DIY), or video blogging about traveling. But remember, create content that matches your interests, because Confucius once said, " Choose a job you love and you will never work a day in your life ."
3. Selling products/services online
You can also use the internet to practice your business skills, namely by buying and selling products online, such as food, preloved goods, or becoming a reseller.
Remember, if you want to help make the food that you want to sell, make sure to maintain the quality of the food ingredients and cleanliness during the food-making process, OK!
Not limited to goods, you can also offer services, such as delivery services, typing services, design, or website creation services. Considering that at this time we are all encouraged to self-isolate, it seems this business is right for you.
Also Read: How To Create SEO Friendly Articles On Blogs & Websites
4. Work as an online freelancer
One way to earn money from the internet is to work as an online freelancer. You can submit an application online to become a proofreader, designer, article writer, or social media evaluator.
However, this one job sometimes requires people who are quite skilled in their fields. So, read the requirements first, OK!
Also Read: How To Earn Money From The Internet Easily And Fast
5. Become a blogger/influencer
Before deciding to go through how to get money from the internet on this one, you should prepare capital first. Examples are blogs, social media accounts, and emails that are quite professional.
The reason is, that these three things can have an impact on your image when you are known by many people. Of course, you want to look credible in the eyes of your followers, right?
Next, determine what niche or activity you want to do to build netizens' opinions about you. Do you want to be known as a food blogger, art critic, or singer?
Whatever you want, make sure you become an accomplished blogger/influencer without any sensations, OK! If the concept is ready, now you have to understand how to create a blog and immediately execute your plan!
6. Peddling products that are only sold online
Being creative is not only when someone succeeds in creating a work of art. But, you can also create products that work for many people.
Examples are ebooks for those of you who like to write, apps for those of you who like coding, comics for you the illustrator, or professional photos for those of you who can capture images from a unique perspective.
In addition to convenience, this business idea also does not require space to store goods and you don't need to think about the amount of stock because these products are not physically traded.
7. Participate in giveaways or competitions
Last but not least, how to make money from the internet is one of the easiest ways you can do it. However, you have to be smart in looking for information. The reason is, that not all giveaways provide the prizes you need or want.
On the other hand, you can't participate in all competitions. Therefore, you need to pay attention to every existing requirement. But if you've found a contest or giveaway with the prize you're looking for, don't hesitate to do your best, OK!
How, have you determined how you get money from the internet? If so, follow these steps so you don't miss the opportunity.
Also Read: What Is CPA Marketing? How It Works And Its Benefits!
8. Affiliate program
You can also make money from the internet by joining affiliate programs. Affiliate marketing is a commission program for people who have successfully promoted products or services through digital channels, such as websites and social media.
The way it works, you just need to register for an affiliate program with the merchant, then share the promo code with your audience. After that, you will get a commission from every person who registers using your promo code. In addition to small capital and no responsibility for managing products, affiliate programs can be your passive income from the internet.
9. Selling stock photos online
Do you like photography? Turn your hobby into an additional source of income on the internet! If you like photography, you can sell your photos to online stock photo sellers.
Instead of just saving photos in the gallery, you can start visiting websites to sell stock photos. Besides being able to make money, your collection of photos can of course also be useful for others. You will get a commission for every person who downloads the photos you sell.
10. Become a dropshipper
The way to make money from the internet that you can try next is to become a dropshipper. Dropshipping is a business model of buying and selling where the seller does not keep the stock of the product but distributes it directly from the supplier to the buyer.
That way, you don't have to bother storing stock of goods or spending capital to buy these items. In addition to minimal capital, this work can be done flexibly anywhere and anytime. You only need to choose a product that will be sold with a good market share. In addition, the selection of suppliers of goods also affects the operational process of the dropship business.