20 Mind-Blowing YouTube Facts you must know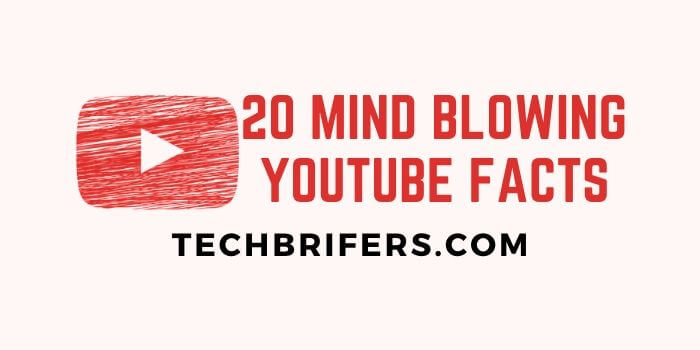 YouTube is certainly, the largest video sharing website and application (as available in both versions) in the world. We can say it the world's largest video sharing platform. In this article, I will be telling you about Top 20 Mind Blowing YouTube Facts you must know
It is so and so popular and favorite for people that taking YouTube's place is nearly impossible. I personally don't think it can happen. But if I will, it will really be a surprise for the whole world.
For me, it is rare to find a person who is not aware of YouTube. We usually use this website or YouTube application as a daily life routine. It can be anything, like searching for informatory videos, technical knowledge, DIY tricks or simply some fun videos.
It really does not matter how we use it. But I am sure that you will the below 30 facts about YouTube very interesting. These YouTube fun facts are worth a read.
No matter how you use it, these 30 YouTube facts are worth a read!
#1Do you know when YouTube was found
On the 14th of Feb. Yes, it was the 14th of February, Valentine's Day in the year 2005 when we got YouTube. It was founded by three former PayPal employees Steve Chen, Chad Hurley, and Jawed Karim.

#2 Bonus made payments
Today people get payments from YouTube, but did you know that YouTube was originally got funding with the bonuses that the employees received when eBay bought out PayPal.
#3 The First Video
When we start something, the first is very important. Same goes with everyone, what about YouTube's first video. It was April 23 of the founding year that is 2005 of Youtube, and the video was uploaded by its co-founder. It was a video shot at the San Diego Zoo by Javed Karim.
#4 Initial Purpose
When any service is started or created by anyone, it always serves for a purpose. YouTube was initially created to be a video dating site termed "Tune In Hook Up."
#5 When Google bought YouTube
After a very short time, YouTube became popular. You must know that after 18 months of YouTube got founded, Google bought YouTube for $1.65 billion in stocks.
#6 Facts on users YouTube have?
There are more than one billion users on YouTube. This number shares around one-third of users present on the Internet, approx 1,300,000,000.
#7 Free production space by YouTube!!!
Yes, this is true. YouTube opened a production space in Los Angeles. This space is free to use, but there is a condition that you must have at least 10,000 subscribers. Not a very big number just put some effort.
#8 The boxer cats video
Most of love cat videos as they are very reactive and so cute looking. The oldest cat video on YouTube was uploaded in July 1894, starring two cute cats. It was shot at Thomas Edison's Black Maria Studio in West Orange, New Jersey. It is a monochrome video, featuring two boxer cats in a mini-ring.
#9 Uploading… Uploading… Uploading…
Do you know how many hours of video are uploaded every minute? Let me tell you that approx. 300 hours of videos are uploaded on YouTube every minute. This is such a big number.
#10 The money maker
In the year 2014, Grumpy Cat, the famous YouTube star, earned more money than an Oscar-Winning Actress. What are you thinking about now?
#11 Do not underestimate
We all know that Google is the biggest search engine in the world. However, right behind it, is YouTube. YouTube alone is bigger than Bing, Yahoo!, and Ask combined.
Youtube Fun Facts
#12 Its a fact that YouTube Fools
On the 1st of April, Fool's day is celebrated worldwide, and also by YouTube. Every April fool's Day, it plays a prank on its millions of users. That's Funny, No?
#15 The YouTube's Rickrolling
When YouTube played the first prank, they turned the website upside down and Rickrolled everybody. The first appearance of Rickrolling on YouTube was in 2009. Rickrolling got the height in 2008, and over 18 million U.S. adults were Rickrolled that year.
#16 Questions and topic trend
Will you be surprised to know that the most popular tutorial that is searched on YouTube is "How to kiss". The second most searched for the tutorial is "how to tie a tie". Well, there are many others. The most popular topic that is searched is music. Everyone wants music; YouTube makes people get everything easily.
#17 Youtube facts for numbers and timings
People watch more than 6 billion hours of videos per month, and approx. 4 billion videos per day.
YouTube has the longest video of 571 hours, 1 minute, and 41 seconds long. That is equal to 23 days and 19 hours! Will you watch it? Comment below.
#18 The leader Video
Leaders do love YouTube. The British Prime Minister, Tony Blair was the first world leader to create a YouTube channel. He started his YouTube account on Oct 19, 2007. Currently, the channel has 978 subscribers
Its a Fact That Youtube gets bans
#19 YouTube Blocked!
Based on a study in 2013, 60% of the 1,000 topmost viewed YouTube videos are banned in Germany.
China blocked YouTube many times. YouTube was blocked In March 2008 during riots in Tibet.
YouTube was blocked again In March 2009, with no official statement to confirm, and the block hasn't been lifted since then – 6 years and no YouTube in China!
It will not be a shock for you to know that YouTube is blocked in North Korea.
Many other countries also applied a ban on YouTube including Pakistan, Syria, Iran
#20 The Scanner
YouTube has a program that scans for copyright infringement called Automated Content ID. It scans over 120 years of video every day.