Zoho Mail: Complete Guide, Features, and How to Register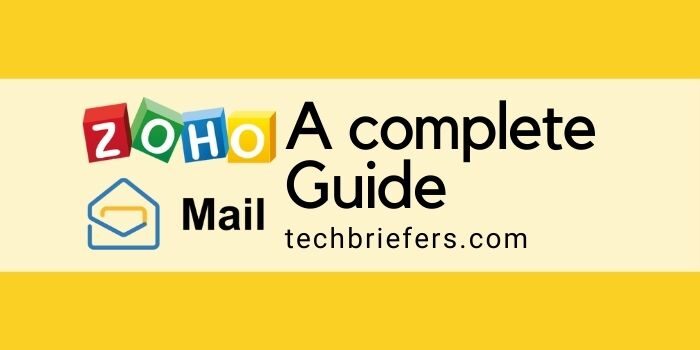 When starting a business, you will need email for your various business needs. One of the software development companies, Zoho Corporation, offers a variety of email features that you can use through Zoho Mail. In fact, you can also use an email with your own domain through this one email provider. Want to know how? Check out the following article.
What is Zoho Mail?
Zoho Mail is one of the email platforms that target business and professional use. Just like Gmail, this Indian/American company's email service provider also offers an email inbox that doesn't contain ads. In addition, Zoho also facilitates you with a minimalist appearance with powerful features.
Also read: Complete Webmail Guide
In addition to email, Zoho also offers other services such as Zoho CRM, Creator, Project, Docs to calendars. You can integrate these services with the emails. This service can make it easier for you to collaborate to coordinate with the team to increase the effectiveness of your business. This is not much different from using social media for business.
Zoho Mail's Advantages
Zoho Mail offers a wide range of domain management options for businesses, from registering new domains to handling multiple domains at once. This one email service provider also provides a control panel that is powerful and easy to use.
Another great thing about Zoho is that you can set up email blocking based on IP address, subject title, and domain for the entire organization. Plus, you can handle incoming and outgoing emails from corporate users to handling spam lists. If you already use another email service, you don't have to worry about migrating email services.
You can take advantage of Zoho's support services to guide your migration process, or you can also use the self-migration tool if you want to move your own account without the help of the Zoho team.
Zoho Mail features
One of the reasons why people widely use Zoho Mail is because of the various features it provides. The following are some of its features that you need to know.
Organized inbox
Zoho's webmail interface does not display ads, even for free services. Apart from that, in Zoho webmail, you will also get the option to organize and share your emails based on folders, labels, and flags. Not only does it provide message blocking, but Zoho also provides filters and labeling so you can filter out what types of messages you don't want to receive.
Zoho webmail already supports a multi-level folder structure that is different from other webmail interfaces. This feature allows you to organize your email so that its structure can be adjusted to your liking. As a result, you can also navigate your email inbox more easily.
If you have an ongoing email thread, Zoho Mail will also show it in a conversation-like view in the messaging app, making it easier for you to track and read email exchanges that occur.
Integration with CRM
marketing activities need Customer Relationship Management (CRM). In addition to building good relationships with customers, you can also collect leads, turning them into regular customers to loyal customers. One of the best ways is via email, this is why CRM integration with email is important.
After collecting leads, you need a platform to store the email data that has been collected. This is why email integration with CRM is necessary. In addition to simplifying the process of tidying up data, you can also save time so that marketing activities will be more effective. Because CRM will automatically enter a list of emails in your Zoho Mail account.
Scrub: clean your inbox
Sometimes, too many incoming emails can get annoying. By using Zoho email, you can take advantage of the scrub feature that works to make it easier for you to clean up your email inbox. You can move emails to an archive or immediately delete emails from five email senders at once.
Also Read: Difference Between Cc And Bcc In Email, Using It Wrong!
Smart compose
Zoho has features similar to those on social media to make sending emails easier. This feature is called "Smart Compose". Once you have finished compiling the content of the email, all you need to do is type '@' then enter the recipient's name, Zoho will automatically display the corresponding name who will receive your message, then send. Easy, right?
Bookmarks
Similar to bookmarks you often find in browsers, this bookmark feature from Zoho can also save website links that you want to bookmark. To do this, select the "Bookmarks" tab in the left pane of your Zoho Mail inbox and then click "Create". After that, enter the URL of the website you want to save. Alternatively, you can install the Zoho Mail Bookmark add-on for the Chrome browser.
How to Register Zoho Mail Personal
You can get Zoho Mail for personal with the "@zoho.com" email extension and storage memory with a capacity of up to 5 GB. Here's how to register Zoho Mail that you can follow:
Go to the Zoho Mail sign-up page .
Change the option to Personal Email, fill in your personal data, then click "Sign up for free". Don't forget to check the terms and conditions agreement.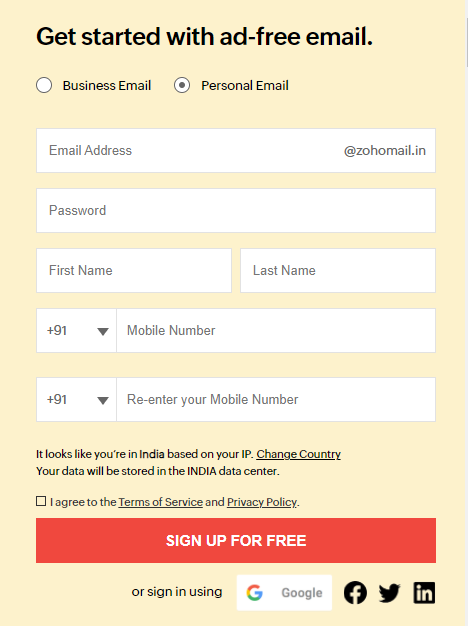 3. A few moments later you will receive a verification code on the number you entered earlier. Rewrite the code then click "Verify Code". Done.
If you want to log in, you just need to visit the Zoho Mail login page and enter your Zoho email address and Zoho Mail password.
Zoho Mail for Business: Zoho Workplace
If you want to use Zoho Mail for business, this Zoho service is for you, Zoho Workplace. This service is a collection of applications placed in the cloud that are already integrated with each other. Zoho Mail is part of nine collaboration apps integrated into Zoho Workplace.
Zoho Workplace can make it easier for you to manage your business through various features, such as spreadsheets, editors, and presentation tools. In addition, your communication with your team to outsiders such as customers, partners, and collaboration partners will be easier using the cloud technology offered by Zoho Workplace.
The following are nine applications that are integrated into Zoho Workplace:
Office Suite
Just like G Suite and Office 365, Zoho Workplace also offers an office suite that you can use to collaborate with your work team to create something. They provide Zoho Writer (document editor), Zoho Sheet ( spreadsheet editor ), and Zoho Show (for presentations).
Collaboration Tools
Zoho Workplace also makes collaboration between your work teams easier by giving you access to various collaboration tools such as Zoho Docs for saving files, Zoho ShowTime for sharing presentations, and tools for checking audience engagement, and Zoho Sites, a website builder.
Communication
A little incomplete if Zoho Workplace provides features to communicate. Therefore, you can communicate with your team, of course, through Zoho Mail, then there is also Zoho Chat, an instant messaging feature, and Zoho Connect, which allows you to be friends with other email owners.
Also Read: How To Create Ads On Facebook? Fb Ads Tutorial
How to Setup Zoho Mail with Your Own Domain Name
Not limited to emails ending in '@zoho.com', you can also change your email name with your own domain suffix. However, of course, you must first have one. After that, follow the steps to change the Zoho Mail email suffix to your own domain below.
1. Go to Zoho Mail's sign-up page for business email. Choose the package you want according to the price list listed. Relax, you can also run this method with a free account by selecting Trial Plan for a limited period. For that, click Try Now.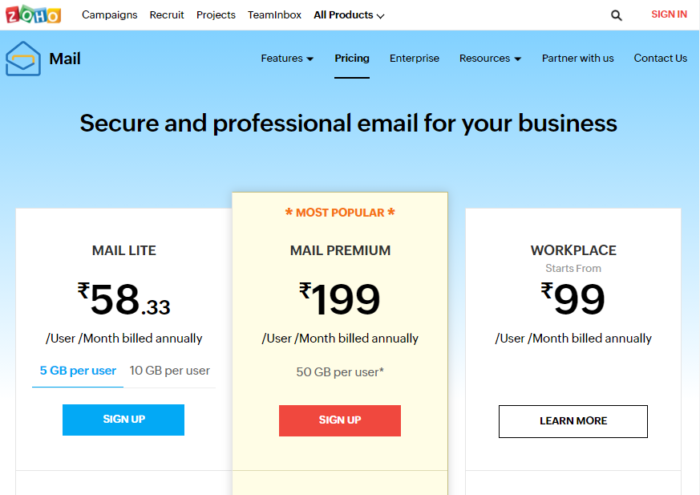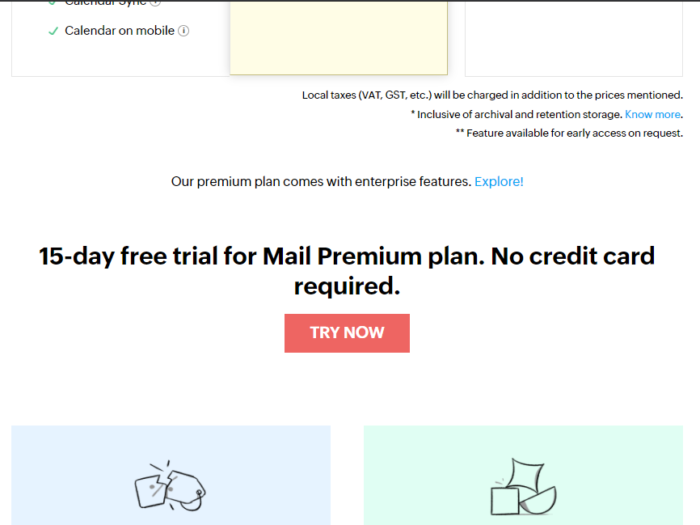 2. After that, fill in the requested personal data, don't forget to put a checkmark on the agreement to the terms and conditions, then click "Sign Up".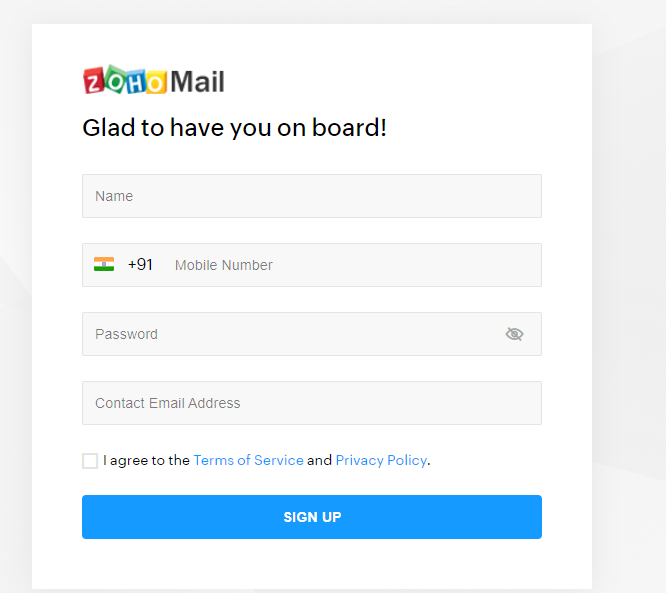 3. After clicking on Sign Up, You Need to enter The OTP sent to your registered Mobile Number. By verifying the OTP, you will enter the Email Setup dashboard.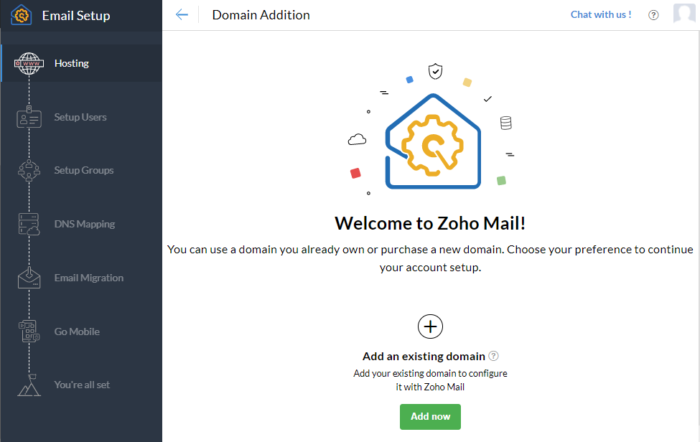 4. Now Add your domain to set up the mailbox. Then Proceed to Domain Verification by clicking on the respective button.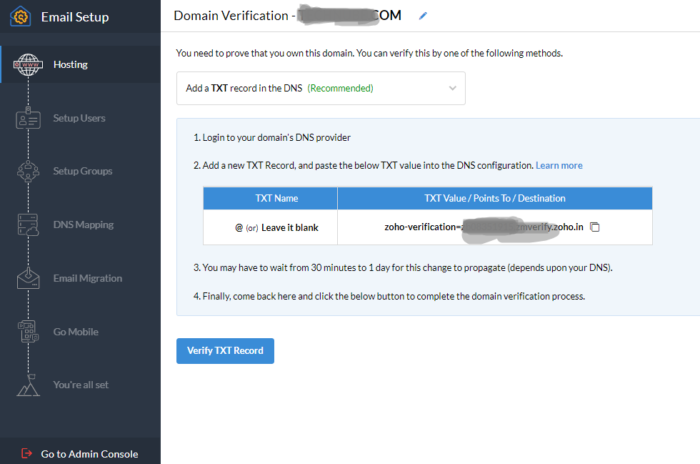 Verify your domain from the hosting provider
5. Enter this TXT record in the hosting Panel of your website. This Can be set up in the DNS Records management section (or Zone Editor) of your hosting provider Panel.
6. Click "CNAME Record" or "TXT record" then you will be taken to a form that you need to fill out. Copy the information from Zoho Mail and paste it into an existing form in cPanel.
7. After Adding the TXT record, Click on Verify TXT Record button to verify your domain.
Done! Currently, email accounts ending in your domain name are already integrated with Zoho Mail. Next, you will be asked to make sure that the email address you entered when signing up was the one you wanted.
One of the important things you should configure is email delivery. In order to receive the email, you will need to configure your domain's MX Records. MX Records are special entries in DNS that are structured to receive an email at your domain. Enter the MX Records from your Zoho Mail page into the MX Records form in cPanel, by clicking the button as shown below.
If you're having trouble adding MX entries, you can get cPanel support help to update the MX records of your domain.
Once done, you can add users, i.e. members of your team. If you use a free service, you can only add up to 25 users for one Zoho account. You can take advantage of the Create Groups feature so that when one of the emails (eg marketing@yourdomain.com ) receives a new message, this message can be automatically propagated to the emails of the team members you registered.
Conclusion
It turns out that messaging services, but you can also take advantage of side features that can be integrated with Zoho Mail. By now, you've learned a complete guide about Zoho Mail, ranging from the various features and advantages it offers to how to register, whether you're registering an email or even converting your email into your own domain ending.
However, something is incomplete if your domain is not activated as a website. Because the website can be the most powerful tool to improve your brand image to increase the amount of income from your business directly or indirectly. So invest in good website development. If you need one from us, contact us now. Or you can directly mail us.