5 secret Google Drive features you rarely know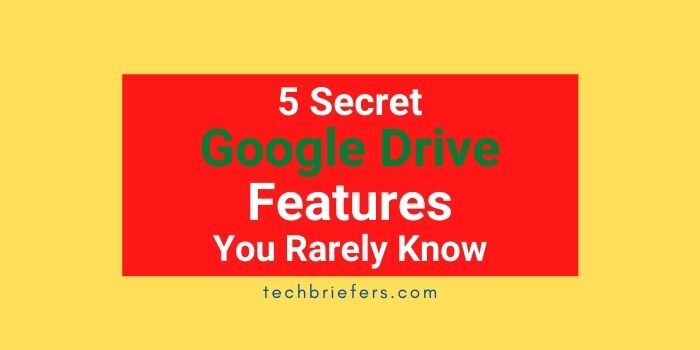 Google Drive is Google's service for data storage in the cloud. This service turns out to have many features that are still rarely known by many people. This article is about the 5 secret Google Drive features you rarely know.
You may be familiar with this Google-owned application for securing all types of data on laptops or smartphones. But, do you know all the existing Google Drive features? Check how much you understand this powerful feature through the following article!
#1. Convert PDF to text
Often you get file submissions from colleagues or friends in pdf form on Google Drive. Then, you want to make changes to the shared document. Of course the document must first be converted to text format. To change it, you don't need to use the help of other applications because this device has a convert pdf to text feature .
Follow these steps to use the PDF to text feature in Google Drive:
Open the pdf file that you want to edit
Select open with Google Docs or 'open with Google Docs'
The PDF file will be automatically converted to text
Also Read: How To Create Ads On Facebook? Fb Ads Tutorial
#2. Translator Features
Getting a file in a foreign language will certainly make it difficult for you to understand its contents if you don't understand the language. You can translate the file directly with Google Drive after uploading it. So no need to bother using Google Translate first. Although the process of translating documents on Google Drive cannot be separated from the help of Google Translate which has been integrated. Here's how:
Upload files to Google Drive
Right-click the file that
Select open with Google Drive
Select the Tools menu, then specify select the target language
Start translation by clicking Translate
Your file will already be changed to the target language
#3. Search By Collaborator
If you use Google Drive for business purposes, there will definitely be a lot of files in your storage. Problems arise when you want to find specific files from colleagues or business relations (collaborators). If you are diligent in sorting and grouping files based on the project you are working on, it might be easier. But what if not? Plus you forget what the name of the file is.
Don't worry, this powerful tool will help you find the file . It's easy, just type the name or e-mail address of your collaborator in the search field. Then, all the files associated with the collaborator will appear. From there you can start looking for files that will be used.
Also Read: How to know sent mail is received and read or not
#4. Drag and Drop feature
There are still many users of this application who have not maximized uploading files. Most still use the way to the New button 🡪 upload files 🡪 choose a file in the directory laptop.
In fact, by using drag and drop, you can trim this process. The step is, select a file from the laptop storage 🡪 click on the file and hold 🡪 drag it to the Google Drive page ( drag) 🡪 drop in Google Drive.
#5. Sharing and Privacy
Google Drive also makes it easy for you to share the same files as well as protect the privacy of the data you're working on. The method is quite easy, just change the settings for each file. If you want to collaborate, just enter the person's e-mail address . Then select the access rights, can only view files or can edit. Easy enough right?
So, which Google Drive features have you mastered? With all the convenience features offered, this platform is indeed the right choice for collaborating on a project.