The Ultimate LinkedIn Content Strategy for B2B Marketing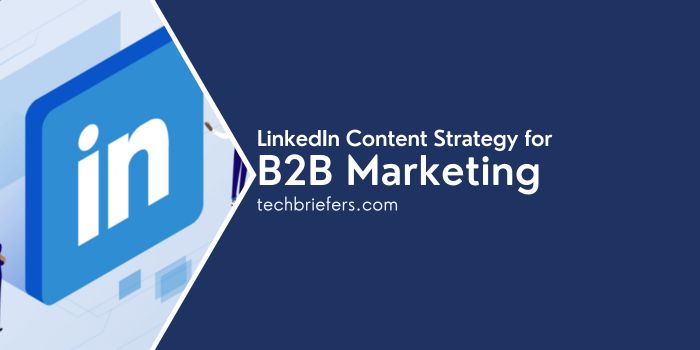 LinkedIn is experiencing record levels of engagement right now. This has sparked the interest of many brands, who are now looking to emphasize the professional social network more. But what is working on LinkedIn? On what should you base your content marketing strategy and especially your social media strategy on LinkedIn? What is the best LinkedIn content strategy for B2B marketing?
LinkedIn, a powerful tool in B2B marketing
For a long time, LinkedIn was considered a job search engine. But not anymore. It is now a powerful B2B marketing tool.
If you are working in B2B, LinkedIn is a gold mine! The platform has nearly 675 million users in over 200 countries, with the majority of these users being professionals from all sectors.
What differentiates LinkedIn from Facebook, Twitter, and Instagram is the word "professional".
When you link on this platform, you are linking with professionals. And more than that, you connect with decision-makers, as 80% of members are in decision-making positions.
By doing B2B marketing on LinkedIn, you get direct access to the people you need to reach the companies you are targeting. The relationships you build as an individual on LinkedIn are critical from the moment you send or accept that connection request.
Content Related: How to Create LinkedIn Ads: The Complete Guide
Native content on LinkedIn for B2B Marketing
With a unique and more professional approach compared to other social networks, LinkedIn has become the No. 1 social network for professionals who want to increase their brand awareness and even get more sales.
As you develop your LinkedIn content strategy and embark on the brainstorming process of designing your LinkedIn posts, keep these stats in mind:
For example, 80% of B2B leads come from LinkedIn (vs. 13% from Twitter and 7% from Facebook) (Source: Findstack)
native documents have an average click-through rate of 3.5% to 8.6%, depending on the size of the account
The other types of posts are just over 2.00%.
Native documents generate 3x more clicks than any other type of content on LinkedIn.
LinkedIn's click-through rate on all types of content will reach 2.20% in 2022.
Also Read: How To Create A Successful LinkedIn Marketing Strategy?
Images and videos in LinkedIn posts get higher engagement for B2B Marketing
The best-performing LinkedIn content type is proven to vary by page size. In the case of medium to large profiles:
Images generate the highest engagement rates (up to 4.06% average engagement per impression share) for pages between 50 and 100,000 followers;
Native documents drive a higher engagement-per-impression rate for pages with more than 100,000 followers.
And while the average engagement rate per impression on LinkedIn is 3.16%, accounts with less than 50,000 followers have the potential to achieve an engagement rate per impression of up to 4.49% with video. marketing.
LinkedIn is particularly pushing videos into user feeds as this type of content has gained traction lately. As a result, they get more impressions and have a higher chance of engaging users on the platform.
But how many videos do they watch on social media?
Related Read: What is the best time to post on LinkedIn in 2023?
The view rate of videos on LinkedIn for B2 B Marketing
For LinkedIn alone, the video view rate is estimated at 14.46% on average.
To maximize your LinkedIn content strategy, keep these key numbers in mind:
Videos from smaller accounts have a higher view rate: 17.18% on average;
Medium-sized accounts (between 10 and 50,000 subscribers) have a lower average video view rate: 11.29%.
For a company, connections on LinkedIn are like partnerships. B2B marketing on LinkedIn is therefore intelligent marketing. It's a no-brainer to reach your audience faster and generate more quality leads.