How To Create A Successful LinkedIn Marketing Strategy?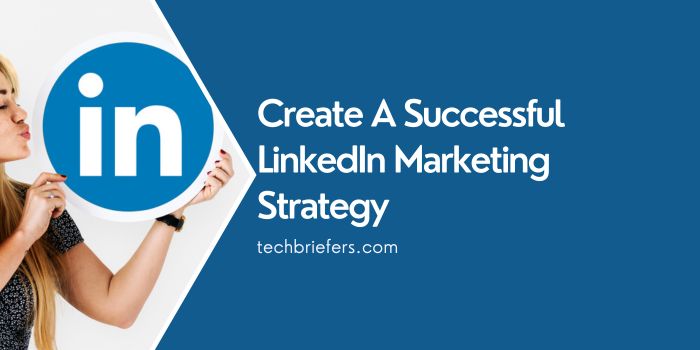 People and companies that will carry out marketing studies decide on which platforms they should do their advertising and marketing activities by considering their target audience. Businesses that appeal to a corporate target audience mainly carry out their marketing activities on the social media platform called LinkedIn. We will discuss here How To Create A Successful LinkedIn Marketing Strategy?
Since LinkedIn is a social media platform where many business people working in different sectors take place, many brands generally prefer to reach their target audience through this social network and aim to create brand awareness.
Businesses that want to carry out a LinkedIn Marketing Strategy for Success have issues that they need to pay attention to in order to be visible on LinkedIn. In this article called How to Have a Successful LinkedIn Marketing Strategy, we will inform you about what you should care about in LinkedIn marketing studies.
Also Read: How to Use LinkedIn to Recruit Top Talent
What is LinkedIn?
LinkedIn is a social media platform that was launched in 2002. This platform, which allows people in the business world to communicate and exchange information with other employees, is also known as a professional business network.
Launched on May 5, 2003, the platform was founded by Reid Hoffman, Eric LY, Jean-Luc Vaillant, and Konstantin Guericke. The social media platform is headquartered in California.
Why is LinkedIn Marketing Strategy Important?
LinkedIn marketing strategy is essential as it provides many advantages to users.
Create brand awareness
Ability to collaborate
Reaching the target audience
Managing recruitment and employment processes
Advertise
Because it offers such advantages, LinkedIn marketing studies are among the important works for every person and company.
Also Read: How to Create an Attractive and Optimal LinkedIn Profile?
Important Points for a Successful LinkedIn Marketing Strategy
There are many points that businesses that will carry out a LinkedIn marketing strategy should pay attention to.
Audience Recognition
Competitor Analysis Processes
Company Page Usage
LinkedIn Content Sharing
Content Tracking
Advertising Processes
It is among the processes that are important in LinkedIn marketing, and every brand should act by giving importance to these processes. Otherwise, brands that develop a LinkedIn marketing strategy face the possibility of failure if they do not care about these points.
Promote Your Audience
To be successful on the LinkedIn social media platform and to gain LinkedIn interaction, knowing the target audience is one of the issues that every brand and person should care about. Because brands and people have the opportunity to develop a good marketing strategy by recognizing what is in their target audience and to be successful on LinkedIn.
Before developing your marketing strategy on LinkedIn, you should therefore pay attention to knowing your target audience. Your target audience;
Demographics
Places of residence
In which sectors it is located
Related fields
It is possible to know your target audience more easily by making analyzes on such issues. After knowing your target audience, you can increase your LinkedIn interactions and interest in your shares by producing content suitable for them, and thus you can make a successful LinkedIn marketing.
Also Read: LinkedIn Benefits For Business Less Known
Give Importance to Your Competitors
There are many people and brands who want to gain interaction on LinkedIn. Most of these people and brands are people and brands operating in the same sector as you. For this reason, when creating a LinkedIn marketing strategy, you need to give importance to your competitors and get to know them to create a competitive strategy.
To analyze your competitors on LinkedIn;
Identify your competitors
Review your competitors' content and consider what content they share.
Pay attention to analyzing content images and content text.
Examine your competitors' follower count and engagement rates.
Check to see if they have a company page for their company.
By doing this kind of work, you can determine who your competitors are on LinkedIn. Then, to develop a competitive LinkedIn strategy, you can decide what kind of LinkedIn content you need to create based on your competitors' LinkedIn shares. With these, you can identify the elements that will bring success to the barber LinkedIn marketing strategy.
Be sure to use a company page to ensure a successful LinkedIn marketing strategy
LinkedIn company pages are used by people who use LinkedIn;
Your employees
Your Services
Job Opportunities
Your Brand
Your Products
It is the most important area where he can get information. Every person and brand who wants to gain LinkedIn success should take care to use a company page. Otherwise, your visibility on LinkedIn may be weakened. To create a company page on LinkedIn;
Log in to LinkedIn on your computer. (Because this feature is only available on desktop devices.)
After logging in to LinkedIn, click the Create Company page button.
Select your Page type. (Here, you can choose from small business, medium business, large business, educational institution, or showcase page depending on your company type.)
Enter information for your Page and for your company.
Click the Create page button.
After completing the relevant transactions, a LinkedIn page of your company will be created. During the page setup to manage and design your LinkedIn page in a professional way;
Using your brand name as a company name
Reflecting your corporate identity on your page (logo, brand slogan, etc.)
Provide information about your products and services
You need to design your LinkedIn page by caring about issues like this. You can create your LinkedIn page by considering these issues and managing your LinkedIn marketing efforts through your page.
Create a Content Calendar
If you want to be successful on LinkedIn, you should take care to create and share content regularly on LinkedIn, as on every social media platform. Generally, in order to share regularly on LinkedIn, brands create weekly or monthly content calendars and plan their content in accordance with these calendars.
Businesses that do not want to spend time on content sharing plan their content by using social media planning tools and thus communicate regularly with their target audience, making LinkedIn company pages visible and increasing LinkedIn interactions. If you want to create brand awareness and attract more visitors to your site through LinkedIn, you can pay attention to these issues and thus reach your goals through regular communication.
Diversify Your Content
Another issue that you need to pay attention to in order to increase your LinkedIn interaction and make successful LinkedIn marketing is content diversity. Because every brand that shares on LinkedIn acts by diversifying its content.
Company information
Corporate culture
Company announcements
Important news
Sharing blog posts
Video and Photo sharing
They are usually the types of content used by businesses that carry out marketing activities on LinkedIn. You can determine such content types according to the interests of your target audience and carry out successful marketing work on LinkedIn.
Give Importance to Image and Video Content Sharing
As with every social media platform, it is very important to use images and videos in content on LinkedIn. Because LinkedIn users are more interested in content containing images and videos and interact more with such content. For this reason, in order to increase your LinkedIn interaction rate and to be successful in LinkedIn marketing studies, you should also give importance to the use of images and videos in your content.
Perform Analytics for successful LinkedIn marketing strategy
It is very important that you make analyses in LinkedIn marketing studies. Because thanks to the analyses you will do, it is possible to see the interest in your content, and your company page. By analyzing your LinkedIn content, you can determine the interest in your content and strengthen your LinkedIn marketing strategy by deciding what kind of content you will share or not.