How to Use LinkedIn to Recruit Top Talent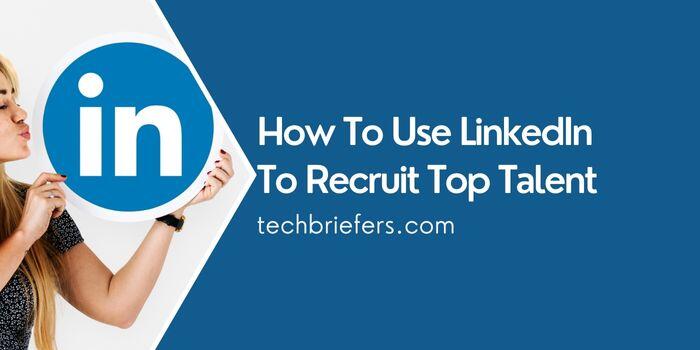 LinkedIn for recruiting is a big step towards offering better tools for finding or even posting jobs. The LinkedIn site is more dramatic or the term is more powerful than social networking.
The more employees who have accounts on LinkedIn, the more positive the company's image will be even though in a negative way if employees who have LinkedIn sites will become targets for other companies.
In this article, we will discuss how LinkedIn can quickly capture candidates who really fit the company's criteria.
LinkedIn's Five Quick Steps In The Recruitment Process
LinkedIn is an effective tool for recruiting. LinkedIn for recruiting takes five quick steps. The steps are as follows:
1. Approach Anyone Through
LinkedIn's Talent Finder Having a free version might not cut it to finding suitable employees but it won't happen with LinkedIn Talent Finder premium.
Businesses can use talent finders to be able to contact all LinkedIn members using the InMail feature, view broader profiles of prospective employees, and perform search filtering which results will be more satisfying even premium LinkedIn Talent Finder can find great candidates who are actively looking for jobs.
Also Read: How to build a LinkedIn profile to attract recruiters
2. Get a Professional Look With Company And Career Pages
While you haven't already done so, your first task should be to set up a free company page. The simple thing is to just click on the company at the top of the home page and then select add a company.
After you do that, you will be asked to provide your company name, provide your company email address and provide other company information.
For those of you who have a company page, the company will provide details about the company profile, and company products, and include a list of jobs using the career add-on page.
You have to pay to do this but once you do, you can provide insight into what it's like to work at the company, post videos, presentations, blogs, and even testimonials from current employees.
3. Measuring Your Recruiting Effectiveness
Of course, you want to measure your recruiting effectiveness using your LinkedIn. You will play around with the Talent Index. The Talent Index is a measurement of your brand reach and how many people are active and engaged with it.
It also lets you determine your Tablet Brand Index score. You can track how effective your recruitment is by judging by geography or against your peers over a period of time. LinkedIn will only be able to compile a list of the top 20 entrepreneurs.
Also read: Broken Link: Explanation and Recommended Broken Link Checker
4. Jumping on Sponsored Jobs
The most effective way to attract potential employees is to use sponsored jobs. LinkedIn will allow its members three or more times to allow submission of employment applications to sponsors rather than finding employment by other means.
5. Join LinkedIn Groups
An easy way to generate interest for your company and the jobs you create is to join relevant LinkedIn groups. Interacting with like-minded people on a regular basis will create a LinkedIn presence for yourself and your company and it will make it interesting to glance at your company profile on the company page.
Also Read: How to Create LinkedIn Ads: The Complete Guide
Benefits of LinkedIn for Business
In doing personal branding and recruitment, LinkedIn has many benefits for businesses. The benefits are as follows:
LinkedIn can count executives from all Fortune companies as members
Many companies have LinkedIn Company Pages . it will make it easier for businesses to bring up their company profiles.
LinkedIn is a very valuable demographic for marketers who have a membership and are members of influence.
Many developers use the LinkedIn API to create tools and provide innovative services for business professionals.
LinkedIn sets the perfect environment for building your business network. For business people, business people can do supplier reviews, and accountants and lawyers are also recommended.
Provide opportunities to be able to develop your business network.