10 Ways to Optimize On-Page SEO to Increase Website Traffic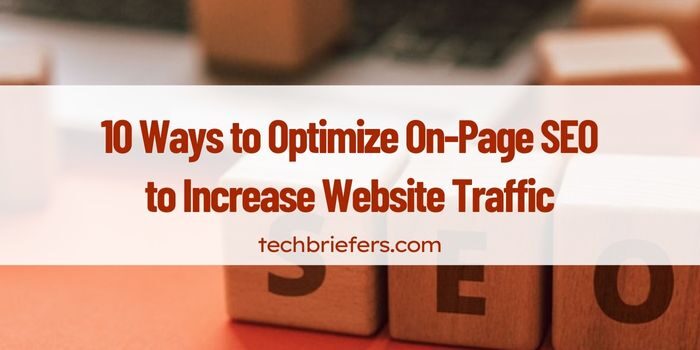 How to optimize on-page SEO on a website is not as easy as imagined. However, if you do it diligently, it will definitely pay off. This time, we will discuss On-Page SEO Techniques with a more comprehensive explanation. That will be easy to understand even for beginners.
On-Page SEO is a factor that can affect page rank. The better the optimization you will do, the greater the chance that the website page will be displayed on the first page of search engine results such as Google.
Also Read: SEM and SEO: Differences in Benefits and Uses
If your site is displayed on the first page of search results, of course, the chances of your site being visited are even greater. Especially if your site is ranked at the top of the first page of search results.
This will also have an impact on the number of your visitors or followers. Because the more visitors, the more likely your services and products are followed or purchased. In essence, this optimization is one way to increase website traffic among many other ways.
Immediately, see how to optimize on-page SEO on the following website, yes!
How to Optimize On-Page SEO Techniques for Blogs and Websites
A search engine usually has a way of determining which web page has more weight and deserves to be presented in the first order of the many choices. This method is known as a search algorithm. For example, on Google, there is an algorithm for page rank called Google Hummingbird.
This is the reason why we need On-Page SEO because we need to make our web page favored by search engines (the content is rated as weighty) for search engines to be able to rank at the top of search results. Check out the following On-page SEO techniques:
1. Create a short URL
Just one word that is easy to spell and easy to remember but can describe your website as a whole. For example, when you create a site that contains a collection of special Javanese recipes, your URL reads resepmbah.com. Then on one of your recipe article content about Chicken Soup cooking, your URL can be written myrecipes.com/chicken-soup.
The URL is not as long as the URL listed in myrecipes.com/2023/7/18/chicken-soup-recipes
. The shorter the URL the more "liked" the search engines are. Making your URL friendly and memorable like the example above can also make it easier for visitors to re-access your site and inform other internet users.
Also read: How to Create SEO-Friendly Articles on Blogs & Websites
2. Associate Keywords in the URL
Just imagine what if your page containing chicken soup recipes with the keyword "chicken soup" has the URL recipembah.com/soto. Of course, your site visitors also feel awkward. Try to include keywords or things that are closely related to your keywords in the URL.
3. Use LSI Keywords
When the search engine brings up the suggested keywords for the user, the search engine will target the main keyword in the title and then check the relevance of the title to the content of the page.
If the title found does not match the content, the search engine will look for LSI keywords in the content to get related words or groups of words.
Imagine you are looking for information about "Apple Fruit", how does Google distinguish "Apple" which is a fruit from "Apple" which is a well-known brand of technology devices? It is this LSI that helps Google find more suitable web pages, which may provide related keywords such as "aroma" "taste" and so on that refer to food, fruit to be precise.
Also Read: All you need to know about Off-Page SEO: Link Building Guide
So, use an LSI keyword that is loaded at least 3 times in the content and has other related keywords as well so that search engines can recognize that the keyword is important. That way, it's easier for the content to be found and suggested by search engines to Google users.
Also read: 
4. Create long content
Why bother to make a long article or content? Because basically, long content that can contain more LSI keywords at once can be considered a comprehensive explanation or explanation of visitor questions/curiosity about something you discuss on your page.
Regarding the number of words that can be more optimal for SEO, it is still a debate from year to year among SEO experts. In 2016, the average SEO expert from America called the number 2250 words the ideal number of words for On-Page SEO optimization.
But some other experts say what is more important is how the quality of the content is adjusted to your target media audience. The ideal word count could be only 1000 words but the frequency of publication is increased. But again, what is certain is logical, the longer your content, the more likely LSI keywords are contained in it.
5. Use H1 Tag on the Title
Keywords that are placed at the beginning of the title are better when compared to keywords that are placed in the middle or end of the title.
For example:
Delicious Chicken Soup Recipe
How to Make Delicious Chicken Soup
Apart from other things, search engines like Google will definitely prioritize the page entitled "Delicious Chicken Soup" because the keywords "Chicken Soup" and "tasty" are located earlier than the title "How to Make Delicious Chicken Soup".
Also read: How to know sent mail is received and read or not
6. Optimize Title Tag for Click-Through Rate
There are two things that can definitely increase the Click-Through Rate. The two things are using numbers in the title of the article/page and using brackets or marks for additional words in the title.
Here are some variations of titles that can help optimize your On-Page SEO with an example of the article topic "How to increase the number of buyers in business":
10 Ways to Increase the Number of Buyers
Increase the Number of Buyers ( Quick and Precise Way )
101 Ways to Bring in Many Buyers [ Success Guaranteed ]
7. Use External Link
There is a misconception about this among internet users. You may think that if you enter a link belonging to another website or someone else, then the page rank points will decrease. That's wrong though.
Imagine entering two external links on the article page, getting 6 points, then the two external links each get 3 points (less than you). So don't worry.
It is Google's rule that external links will provide link juice or additional points in Google page rank. But try your quality external links. Quality external links affect the relevance and trustworthiness of a page to Google.
8. Use Internal Links
Well, for this, maybe it will be easier for you to understand. You can link links from your old pages or articles/archives. For example, if you publish an article about On Page SEO optimization, you can direct visitors to visit your previous article about the definition of SEO or the basics of SEO.
There are several things to consider when using internal links:
Include internal links that are relevant to the content. Don't let the links you link be actually not very relevant to your content or even not related at all. These errors will upset your visitors.
Try not to include common words/phrases like "Click here" or "Details" as anchor text. Words like that are not SEO-optimized words.
Include at least 2-3 internal links because the number affects optimization for SEO. When a page is frequently linked to other pages, search engines like Google will pick up on signals that the page on the site is important.
Position your internal links in the content naturally for the convenience of visitors and more content weight. Links located in article content have more weight than links placed in the footer or sidebar.
9. Maximize page loading speed
In this case, we recommend investing appropriately in the best hosting provider to avoid page crashes due to overcrowding.
The difference between cloud hosting and regular or traditional web hosting services is that your website is linked to many servers so that if one of them is down, it can be moved to another server without changing your website address.
Then, another way besides choosing the right web hosting is to use a mobile-friendly display design. On April 21, 2015, the Mobilegeddon algorithm was officially released by Google. This is because almost everyone who accesses the internet is now using a mobile device to visit a Google search result site.
Also read: 3 Official Ranking/SEO Factors shared by Google
To deal with these developments, whether you like it or not, every page or site needs to adapt, including you. Otherwise, your page rank will be affected. Because this algorithm is one of the 200+ Google Ranking Factors that Google considers in suggesting a page that ranks high in its search results.
Is Your Page Design Mobile-Friendly? Here's How to Find Out!
How do we know if our page design is mobile-friendly or not? Here are some things that can be used as a reference to find out:
Sites that are mobile-friendly usually get this information when opened via a mobile device in Google search results.
The appearance of the site can adjust to the size or width of the visitor's mobile device screen automatically.
The size of the text can also automatically adjust to the screen of your mobile device so you don't have to bother enlarging it anymore because of difficulty reading truncated or incorrectly sized text.
When tested using a tool from Google on a site, Mobile-Friendly Test, the results will show that the site is mobile-friendly.
10. Use a variety of multimedia content
The last way we share for On-Page SEO optimization is to load various multimedia content such as images, screenshots, graphics, etc. However, this kind of visual communication is much preferred by readers when it fits the context.
If your article wants to explain the stages of creating a Facebook account, it will be more effective if you include image content along with a brief description of the steps.
Try to compare it with the condition if you don't use pictures, then you need to describe it in detail so that the reader understands or even confuses the reader.
Also read: Complete Guide to Keyword Research
As we have shared in previous articles, quality content with a pile of words and numbers is not necessarily attractive to readers. "Show doesn't tell! " is a good principle for you to apply.
If you also want to create content in written form, try to activate their imagination or their five senses with interesting and clear descriptions.
Already Know How To Optimize Website On-Page SEO?
That's how to optimize the On-Page SEO of a website or blog that you can do. But keep in mind, that there are no instant results for SEO. You need to do it consistently, monitoring each of your content or site all the time. You need to continue to look for other SEO knowledge according to the development of existing information and technology. Hopefully useful, good luck!