Complete Guide to Keyword Research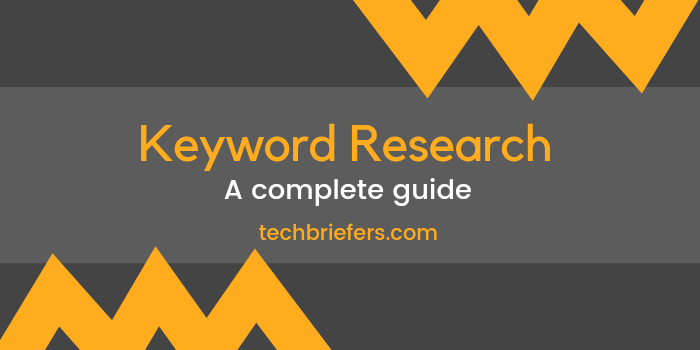 Doing keyword research or keyword research for SEO is something you should do earlier when you first build your site.
Your hope as a site manager, of course, is to get visitors or increase sales (if you are engaged in business, both services and products).
Do not let the amount of content that you have published that does not produce anything, you may think about closing your site.
Don't close it yet! We will provide a good solution for you to understand and practice so that your expectations are achieved.
Definitions and Misguided Keyword Research Questions
Keyword Research is a research that you can do as an SEO or optimization strategy for search engines. This research is basically an activity to find keywords that are often entered by people in search engines, which of course are in accordance with the topic of the article/page of your site.
For example, you write an article on the topic "Putin Biography". Look for related searches in your search engine that say "Vladimir Putin Facts", "Vladimir Putin's Life Story", even "Vladimir Putin What Religion". In essence, keywords should not be far from the topic.
The above is what makes the right keywords aka many people search for very important for you. Do not let you enter keywords that no one is looking for.
But you need to note that increasing the number of visitors or making your page in the top position of search engines is not the only goal you need to achieve, you also need to be right on target.
This is the reason why this article is also important to read by those of you who consider themselves to have a lot of knowledge about keywords and their relation to SEO.
Imagine that you feel like an SEO expert wants to sell you something and then you target a lot of keywords with good search volumes through Google Keyword Planner.
After a few weeks, your page is at the top of the search engine results and your site visitors are growing. But none of the buyers contacted you to buy the products offered on your page. What happened?
Back again to the point we shared with you earlier. Your goal should be a complete package that is not only to find the keywords with the most number of searches or bring in visitors, but also to the right target.
Knowing the Value of a Keyword
First, to determine the value of a keyword, you first need to value keywords more than just considering them as mere words that all have the same value.
There are keywords that many people are looking for but are not very useful. There are also keywords that are less searched but of great value. So you need to know how the motives or intentions of search engines like Google are first, related to keywords. This is commonly referred to as " Search Intent ".
There are several kinds of Search Intent that you can know. Here we provide simple explanations and examples so that you can understand more easily.
#1. Transaction
This motive is of the highest level. People who search through keywords with this motive mean they are ready to transact for a product or service. For example, keywords like the ones we showed you above, "Buy Alien Antidote", "Sell and Buy Cheap Used Goods", "Prosperous Life Counseling Services".
#2. Price Comparison
Generally, a person does not immediately buy the goods he wants to buy in a store. He will first look for prices on the market or price comparisons in search engines. For example keywords like the ones we showed above, "Check the price of Xiaomi Mi4 Smartphone", "Cheapest price for Ghost BC T-shirt", "Nikon D3S camera price".
There is a habit of internet users where they type certain keywords to search for a site they want to visit. This kind of keyword is large but actually less useful. Examples of keywords as we showed above, "FB chat", "Twitter Login", "Quora Forum".
#4. Information
This is the motive that is most often found in search engines such as Google where people search for information quickly.
Now, because Google understands this motive, it is not uncommon for Google to immediately provide answers directly in the Quick Answer Box.
In the search for keywords in English this has happened a lot, while in the search for Hindi language or other, it is still rare. So be careful choosing keywords because this will affect the number of visitors even though the volume is large.
The information in question is for example keywords like the ones we showed above, "Gummy Bear Candy Inventor", "SEO Strict Techniques".
Various Free Tools for Keyword Research
There are many apps to help you in your efforts to plan the right keywords for your business, and you can use them without spending a penny. Here are five free apps for your keyword planning.
#1. Google Keyword Planner
This app can search for new keywords for you. This application from Google provides statistics for each keyword, as well as giving you information about the size of the search and the estimated cost per click (average cost per click).
Google Keyword Planner or Keyword Planning is only the first step that can help you choose the right keywords, so it's not the only application that can be utilized. As Google has said, you can use this plan as a basic direction for determining keywords.
Next, we will describe the process of using Google Keyword Planner which we adapted from Search Engine Land along with the images, to make it easier for you to use Google Keyword Planner.
We provide clear steps for this one tool because Google Keyword Planner is the main tool that you must use as a basic reference for your keyword research.
The first step in this process is to determine how you will create your ad campaign and ad group. You are asked to choose one of 3 possible paths:
Look for keyword ideas and ad groups
Enter or upload keywords to get estimates
Calculate keyword list to get an estimate
Next you can filter your keywords from the existing Keyword Plan, set targeting parameters, and finally get the results of the review and analyze them again.
The next step is to click 'Search for keywords and ad group ideas. Then a robust keyword workbench will appear.
#2. Ubersuggest
The Ubersuggest application provides data from Google and other search engines via the first keyword, adds letters or numbers to keywords, also offers suggestions for your keywords. In addition, this application can also expand the list of keywords and help you generate new ideas.
#3. Keyword Tool
This application is somewhat similar to Ubersuggest because it uses the same Google Autocomplete concept. But Keyword Tool can be said to be one step ahead because this application can provide up to 750 keyword suggestions for you. This Keyword Tool works with 129 domains on Google, 83 languages ​​and is user-friendly.
#4. WordStream Free Keyword Tool
Although this application has limited features, Wordstream provides more variety of keywords for your long keywords when compared to Keyword Planner from Google. And actually all the keyword suggestions displayed by this application are more relevant than the keyword suggestions from the previously mentioned applications.
This application can represent more than one trillion search queries. You can use it up to 30 times a day without paying.
#5. Keyword Eye (Basic)
This is the most interesting application compared to other similar applications that we have provided information before. A visual keyword app that provides 'keyword blobs', where the size and color displayed by them, respectively, represent the size of the search as well as the flow of the competition.
You can also view keyword suggestions via the performance grid and sort them by specific metrics.
With the free version of Keyword Eye , users can have 20 keywords in a day, reports related to 100 keywords, and 25 total keyword databases from Google. In essence, Keyword Eye provides data that is quite comprehensive but easy to understand.
Strategy for Determining the Right Keywords
Here are some ways of keyword research that you can try:
Get to know the target market for profitable niche keywords
The first way of keyword research is to map out how your target market is. You only need a Word document or maybe paper to take notes or draw this Niche Market map. There are various ways to find a Niche Market, but the easiest way is with the Buyer Personas technique.
This technique is a very simple way to identify a Niche Topic that your potential customers like. Once you identify this Niche Topic, you can easily find out what keywords your potential customers use on a daily basis.
Performing the Buyer Persona technique needs to focus on keyword research that includes complete and basic details of your target audience such as the following:
Gender
Age
Estimated earnings
Hobbies and interests
The things they struggle with
What do they want to achieve (both personally and professionally)
In addition, you can also identify your Niche Market by joining online forums such as Quora.
Search results related to Cloud Hosting in one of the largest forums are the average questions or complaints of web owners whose traditional hosting cannot fulfill their desire to get a fast, ready-to-use, stable, secure and crash-proof domain when there is an explosion of visitors.
Such is your Niche Market, the people who manage the website with the problems described above.
The steps above can help you observe what your Niche Market needs are daily or recently so that you can then adjust what keywords you should target according to your market needs.
In addition to knowing what your visitors or potential Niche Market needs, it's also a good idea to know what they don't expect or what they don't like.
Focus on long tail keyword searches
The next way of keyword research is with Long tail keywords, namely keywords that are long but on target. Why? Because as you have read in the previous Search Intent section, for example in the Transaction Search Intent section. Because keywords that have a high value or have a transaction motive/purchase intention are usually long.
Suppose there are two types of keywords, namely "Buy Xiaomi Mi4" and "Xiaomi Mi4", which one do searchers usually enter? Of course the long one on the first keyword. Then, long tail keywords like this usually have less competition than short ones.
How to find long tail keywords? You can use the applications that we have introduced in the Various Free Tools for Keyword section, one of which is Ubbersuggest. Here you can get a lot of hidden keywords.
Prioritize keywords based on needs
The next way to find keywords is that you must first determine their priority. To optimize your site try to do this step by reviewing your site type.
Do you load more information content? Meaning your order of priority is volume, then competition, last intent .
Do you have a blog for your product business? That means your order of priority is volume, then intent, lastly competition.
Do you have a blog to sell services or services? That means your order of priority is intent, then volume, lastly competition.
Search more and more of your keywords
Get rid of the complacency when you've got some keywords that you think are good for an article or page on your site. Keep checking keywords and testing the right keywords while paying attention to the previous point about priority.
In fact, this is generally a good attitude for whoever you are, no matter what field you study. Also try to find other references besides this article to develop your knowledge and skills.
Understand what kind of content is suitable for certain keywords
What we mean by content here is not limited to articles containing only words or images. For us, content includes files to download, tools to use, or reviews from visitors or buyers of your services or products.
How to easily and quickly determine content for certain keywords? It's easy, try to position yourself as someone who enters keywords or searches for keywords in the search engine column.
For example, the keyword "Nikon D3S" means that the expected content is an official explanation or description from Nikon about one of these products. If the keyword is "List of the Best and Cheapest Cameras" then the searcher's hope is to find content that contains many types of cameras of good quality for affordable prices.
Conclusion
Overall, keyword research is essentially doing an analysis of what keywords you want to target.
In this article, you have got a good reason why keyword research is important. In addition, we also discuss the myths that exist about keywords that are bad for your business or business online. More importantly, we provide some suggested tools that can help you in doing keyword research.
Basically, keyword research is rooted in our observations and understanding of the Niche Market or the potential target market we want to reach. Try to constantly follow the development of your Niche Market, what is trending among them and what their needs or wants are.