What is Google password checkup tool and how to use it?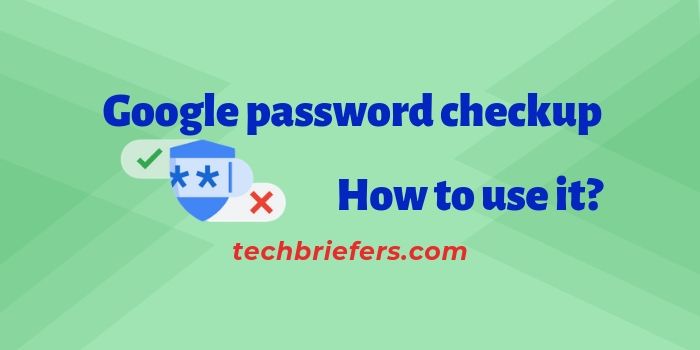 Google has warned millions of users for password hacking. For this, Google has introduced a new extension for the Chrome browser. This extension is "Password Checkup" available for all users. In this article, you will get the information about –
What is the Google Password Checkup Tool and how to use it?
Using feature, Google will keep a check on user passwords used for login on chrome. If the password used on a site has been compromised, it will prompt warnings. This warning will make the user change the password and secure the account.
Google announced the Password Checkup extension for Chrome in February this year. This was to help keep user's online accounts safe from hijacking. The tech giant said that whenever you log in to a website with username and passwords. You will be one out of over 4 billion users. Google reported this to be unsafe due to a third-party data breach. Since they launched the extension, over 650,000 people participated in the beta phase. Google scanned and found 316,000 unsafe logins by scanning 21 million usernames and passwords. This count was 1.5% of the logins scanned by the Password Checkup extension.
Google said that users are unaware of the risk by reused and unsafe passwords. The risk when such passwords pose to their financial, government and email accounts is quite high. In fact, the risk is more intense when it comes to shopping websites.
With the help of Google's password checkup tool, these people can check their password to find out if their password has been hacked or not.
What is Google Password Checkup?
Password checkup is the security extension tools for chrome browser offered by Google. It informs the user if the current passwords have been hacked or at risk?
Are user passwords under Data Bridge and no longer secure?
This tool will give an alert popup to the user if the user's password is tampered with.
And encourage you to change your password. With this, over 4 million people can change their password, whose username and password can be hacked.
Simple infographic by Google to explain what their Password Checkup Tool does.
How to use the Google Password Checkup Tool?
Google password checkup is very easy to use. For this, you just have to install & activate its Google chrome extension.
For this, you can follow the following steps.
Password Checkup Tool Installation
Open the chrome browser on your computer.
Sign in with your Google Account (or you can do it after installation too).
Then go to the Chrome Web store. Link to Apps is present in the top left corner of the bookmarks bar. After clicking on this, you will get the web store link.
Install Password checkup extension by clicking on Add to Chrome button.
It will give a popup to confirm the installation. Click on Add extension.
After getting confirmation the extension will be added to chrome and show a message like in the screenshot below.
After Installation
After installing the password checkup extension, its Icon

will appear on the right side in the browser besides the address bar.
Now you can log in to any site in Chrome browser fearlessly.
If your password is hacked, then the color of the password checkup extension will turn red and you will get prompt to change the password.
If that password is not in the hacked list, then the color of the extension will remain green and there will be no warnings to show.
This tool advises you to change the password after getting a password checkup warning. However, this is completely your decision to respond to the warning.
Want to disable Password Checkup Tool?
After you will install the tool, you can turn it off anytime. To do so, right-click on the icon and select manage extensions option. Here you can enable or disable the tool anytime you want.
Otherwise, you can follow the steps below to disable this tool.
Open the Chrome browser on your computer.
Click on the three-dot menu

on the top right corner of the browser. Click on more tools option. It will display Extensions option. Click on Extensions.
Here you will get the list of all the extensions.
Look/search for password checkup in the extension list.
Now you can turn password checkup extension on or off using the toggle.
Clear password checkup data
Also, you can clear password checkup data if you want. To do this, you will have to go to the password checkup advanced settings. Then click on clear extension data, and you are done.
Before you choose to disable Password Checkup Tool or want to clear the data. Have a look at the stats by Google for before and after passwords updated.
Final Words,
In this way, you can use the c very easily. And can do security checkup of your usernames and passwords.
If for some reason you do not like this extension, you can also send feedback to the development team.
You will get the option to send feedback in the password checkup extension itself.
If you like this information, please do share it with your friends to make their data secure.