Top 5 soft skills to show during an interview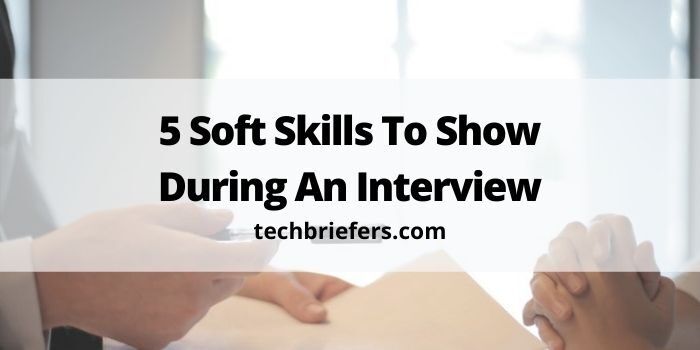 When you are looking for a new job, many candidates will focus all their attention and energy on promoting their technical skills and experience during the interview. Of course, demonstrating relevant experience and industry-specific knowledge is essential, but not always sufficient to secure the role. In this post, we are going to discuss the 5 soft skills to show during an interview. This will certainly help in soft skill improvement in you.
With many candidates pursuing a single job frequently, most employers carefully evaluate soft skills to select the most suitable person for the position within the company.
Here are five areas to focus on during the interview process as well as questions to be aware of:
Show Enthusiasm during the interview
Sounds self-explanatory, but don't suppress your enthusiasm and excitement for a particular role. Employers want candidates who are genuinely interested in the company and passionate about what they do. Put all your energy into the job interview and don't give the impression that you are ambivalent about the position.
Questions to watch for:
What do you think you can bring into the role?
Why do you want to work here?
What drew you into this industry?
This is a great opportunity to highlight your enthusiasm for the role and what particularly excites you about the company. You want to build a relationship with a recruiter or hiring manager, so take the time to learn as much as you can about the company and position, and use this knowledge to express enthusiasm.
Communication is important
The interview is a good opportunity for the employer to assess your verbal communication style, and ability to express ideas. Before the interview, practice speaking out loud about your experiences. Try to keep the answers clear, concise, and to the point. Good communication also requires you to be a good listener, so always pay close attention to what is asked of you.
Questions to watch for:
Tell me about yourself
Tell me about your background
Long and verbose answers can come with a bad impression, so it is advisable to prepare brief responses to basic questions that may come up during a job interview. 'Tell me about yourself is a common question, and having a structured response is important – learn more about how to respond to this question here.
Remember to listen and don't throw it if the questions asked are different from the ones you have prepared. Take the time to formulate a response and adapt it to the questions that have been asked.
Prove that you are a problem solver
Usually, companies will look for potential candidates who have lateral thinking and innovative approaches to solve difficult situations. A problem-solver who takes a creative approach to solve business problems is desired by every employer. Make sure you think of real-world examples to highlight your skills in overcoming obstacles and producing successful results.
Questions to watch for:
What is your strength?
How do you solve the problem?
Describe a situation in which you dealt with confrontation
Questions like this allow you to use specific examples to showcase your skills. Consider a situation where you have used problem-solving skills and explain what you did to achieve a positive result.
Power of Persuasion will be powerful in the interview
Your ability to positively affect those around you is a very important attribute. Do you negotiate effectively with different teams and individuals? Can you confidently build solid business relationships at all levels of the organization? Collect examples of how you have accomplished this in the past.
Questions to watch for:
Describe a situation where you worked as part of a team
Describe a situation where you influenced or motivated people
Preparing answers in which you have positively influenced others is useful for questions that ask you to provide examples from previous work. Choose impressive examples and highlight the best soft skills, such as your ability to persuade and negotiate.
Management Materials
If you want to increase your promotion, you need to inspire the belief that you have managerial talent. You need to prove that you have an inclusive approach, the ability to engage with employees at all levels, and hope to take responsibility for the success and well-being of others. Most importantly, you must prove your ability to forge effective and lasting business relationships.
Questions to watch for:
Are you a leader?
Describe a situation where you have led the team
What makes a good team leader?
Use these types of questions to demonstrate your managerial skills and the qualities you believe are needed to be a good leader. If you have experience managing teams or projects, highlight this and explain why you enjoy this aspect of management. By providing an example of a time where you managed a complicated situation, it will inspire confidence in your management skills and prowess.
Remember, technical skills and relevant experience must always go hand in hand with good communication, change management and interpersonal skills.
Read More Interview related articles here.