Tips to answer "why do you want to work here?" in interview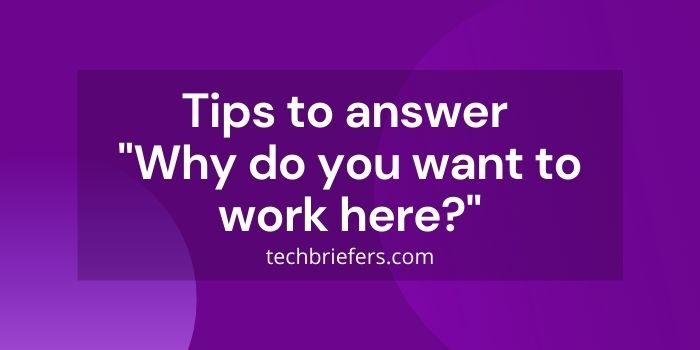 When you're doing a job interview, recruiters expect you to say the truth when answering recruiter questions. However, when you are faced with the question "Why Do You Want To Work Here?", You will start looking for reasons that make sense and polish your answers so they sound good to the recruiter. Here are the interview tips to answer this question.
To respond to these questions, you don't need to be too honest. You don't need to give off disgrace if you want a job because you feel desperate to pay the next month's bills. You also don't need to announce that you hate your boss at the previous company so you need to find a new job. The point is, you don't have to lie, but you don't have to say everything either.
Interview Tips: What to avoid?
So, before knowing how to answer the question "Why Do You Want to Work Here?", You need to know what to avoid. Here are some facts that should not be disclosed to recruiters when responding to these questions:
Lost your job and pressed to find a new job because you have to pay various bills.
Hoping to leave the current workplace because of too much pressure, while not being rewarded by the office or boss.
The severance pay from his previous job was almost exhausted, so he had to get a job immediately.
Forced to apply for a job because of the encouragement of parents.
Tempted by high salaries and a good position.
Feeling pressured by the family due to unemployment status.
So, when you answer, "Why do you want to work here?", Your answer should focus on things that will mutually benefit the employee and the company. Here are tips on answering the question "Why do you want to work here?" As extracted from Career Addict.
Work according to expertise
When you are faced with this question, you can state the reasons you want to work at the company by mentioning the specific skills you have, work experience, and maybe some of the training you have had. Then match the job descriptions and qualifications that the recruiter has outlined. This already shows the reason that you want a job because it is in accordance with competence.
Praise for the company
It doesn't hurt to praise the success of the company. So, you can respond to the question "Why Do You Want To Work Here?" with the answer that you are happy if you can join a team at a well-known and reputable company.
Want to do technical work
Based on your field of study, there are two big job options that you can do. First, theoretical work, where you struggle more with files behind your desk. Second, technical work in the field. You can use this as an answer to the question, "Why do you want to work here?". Maybe you are tired of being behind the table and leaving the room. Then you can just tell a potential employer that you have done enough theoretical assignments, and now it's time to practice.
Associating with life goals
Maybe you are a person who has big goals and lofty aspirations in life. Your desire is not just to work and reach the top of your career. But, more than that, you want to contribute to life and the world through the work that is done. So, in response to this question, you can just answer if you want to join the company and make the world better in the future.
In essence, when responding to the question "Why do you want to work here?", Then avoid answers that sound compulsive. Your answer should make it clear that there is nothing in the world that will make you happier than working for the company that is being proposed.
Read More Interview related articles here.