Deep Web vs Dark Web: 24 differences to be aware of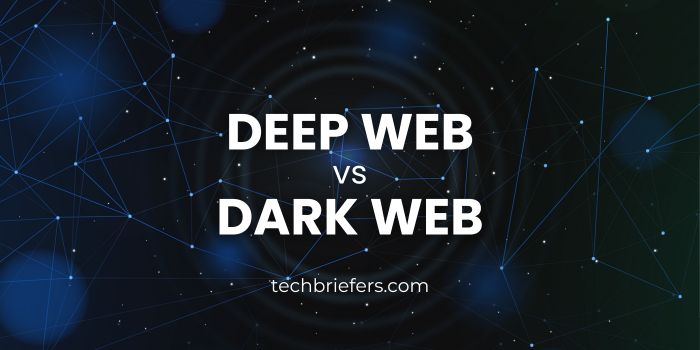 Before we dive into the comparison of the Deep Web vs Dark Web, let's get to know what each of them actually means. The deep web is one of the things that is often associated with the dark side of the internet containing cybercrime, hackers, and dangerous computer viruses. In fact, some people consider the deep web to be a place for illegal and dangerous information.
However, in reality, most of the content on the deep web has nothing to do with illegal activities. It's just that the content in it is more confidential and not for public consumption.
Apart from considering it as the dark side of the internet, many people also often think that the deep web and dark web are the same thing. In fact, both are different, you know!
So, this article will discuss everything about what the deep web is, starting from the contents of the deep web, the benefits, and the risks when accessing it, to the difference between it and the dark web. Let's see!
What exactly is the Deep Web?
The deep web is a page on a website whose existence cannot be found through conventional search engines such as Google. The reason this search engine cannot find deep web data when searched by users is because there is no link index on these websites. So, ordinary search engines cannot identify what is inside the deep web.
You can compare the deep web to an iceberg hidden under the surface of the internet. So, the internet that you can find on Google so far is the tip of the iceberg that is visible on the surface, while the deep web is an iceberg that is below sea level, so it is not visible to everyone.
Also Read: Web Servers: How it Works, Functions, and Examples
Most of the sites on the deep web are legal and safe sites. Some of these store highly confidential databases that require credentials to access.
Additionally, people also use the deep web as an intranet. Intranets are internal networks for companies, governments, and educational facilities that are used to communicate and control private aspects of their organizations.
What's inside the Deep Web?
The deep web is a place where some protected data cannot be accessed and found easily by the public. Some of this data is certainly safer when stored on the deep web to prevent misuse and unauthorized access.
Even though it can't be found, actually the contents of this deep web are not dangerous, you know! Here are some examples of deep web content that ordinary people commonly hear:
Personal email account data
Personal social media account data
Personal online banking account data
Company stores data in the company's own database
Data contained in scientific and academic databases
Medical record data
Official file data
Sensitive data like the one above, of course, should not be spread on the internet just like that. Therefore, the deep web is here to accommodate the data so that it is safer from data theft.
Also Read: How To Increase VPS Security | Top Tips VPS
Well, can someone see these contents? The answer is yes but it will be difficult as they will have to log in to an account and then provide a username, password, or some other type of authentication. This kind of authentication process is a good thing to prove that only the account owner can access the data.
Benefits of the Deep Web
After reading the contents of the deep web above, of course, you can already know the benefits of having a deep web. Yep, the main benefit is protecting sensitive internet user data. Here are other benefits of the deep web :
1. Protect personal data and information
You can use the deep web to store confidential information online. You can save in the form of text, documents, or other files. If you feel unsure about using username and password authentication, you can add multiple authentication (2FA) so that the personal data you store will be more secure.
Also Read:
2. Access personal data and information securely
Apart from storing data, the deep web is also designed so that users can search for information related to their personal data. This occurs because data stored on the deep web can only be located within the deep web itself.
What Are the Risks of Accessing the Deep Web?
Even though the deep web is a part of the internet that is still relatively safe, users must still be careful if they want to visit it. Because you are not the only one who is visiting it. If you are not careful, hackers can get your identity and important data through the device you are using.
To avoid the risk of getting hacked when accessing the deep web, here are some things you need to avoid when visiting the deep web :
Hide your identity
Stay away from dangerous links
Avoid making payment transactions on the deep web
Stay aware of each type of content you are looking for
Avoid conversations with strangers
Difference between Surface Web, Deep Web, and Dark Web
After reading this far, you may be wondering what is the difference between the deep web and the dark web. Well, we will discuss the answers one by one from each understanding.
The surface web is pages on the internet that you can find through conventional search engines like Google, Yahoo, Bing, and others. Surface web pages are public sites, for example, the TechBriefers blog. Sites in the surface web category can be indexed in search engines, and users can find information through those search engines.
Also Read: Top 20 Google search engine alternatives
Furthermore, the deep web is a site that stores confidential databases. Most of the deep web content consists of sensitive information that search engines should not find. Such as personal banking data, email addresses, and phone numbers.
By hiding personal data from the public by using authentication such as usernames and passwords, the deep web can help protect the privacy of its users.
Meanwhile, the dark web is a site and search engine that may be difficult for ordinary users to find. Just like the deep web, the public cannot find the dark web through search engines. However, some content on the dark web is illegal and unsafe for public consumption.
To access the dark web, users need to use certain network protocols or special applications such as the Tor browser. Website domains on the dark web generally only use the .onion domain extension.
Deep Web vs Dark Web Comparison Table
The following is a table showing a clear comparison i.e., Deep Web vs Dark Web:
| # | Aspect | Deep Web | Dark Web |
| --- | --- | --- | --- |
| 1 | Accessibility | Not searchable on regular search engines | Not searchable on regular search engines |
| 2 | Content | Private databases, confidential info | Illicit content, black markets |
| 3 | Purpose | Store sensitive info, research resources | Concealment, anonymity, hidden services |
| 4 | Safety | Generally safe, protected data | Mostly misunderstood due to a lack of awareness |
| 5 | Access | Restricted, often requires credentials | Requires special tools (e.g., Tor browser) |
| 6 | Domain | Standard domain extensions | Uses .onion domain extension |
| 7 | Legality | Mostly legal content, private data | Mix of legal and illegal activities |
| 8 | Anonymity | Provides privacy through authentication | Offers anonymity through encryption |
| 9 | Usage | Research, private communication | Anonymity, illegal trade, activism |
| 10 | Visibility | A mix of legal and illegal activities | Not visible, intentionally hidden |
| 11 | Authentication | Often requires login credentials | Typically utilizes encryption and special tools |
| 12 | Trustworthiness | Generally contains reputable sources | Often associated with illegal or unreliable content |
| 13 | Commercialization | Used for business operations | Can involve illegal markets and illicit services |
| 14 | Regulation | Operates within legal boundaries | Operates in a less regulated or monitored environment |
| 15 | Purpose Focus | Focuses on private and confidential data | Focuses on anonymity, privacy, and hidden activities |
| 16 | User Profiles | User profiles might require personal details | Emphasizes pseudonymity and avoiding personal info |
| 17 | Perception | Mostly misunderstood due to lack of awareness | Often seen as a hub for illegal or malicious activities |
| 18 | Communication | Can include secure communication channels | Offers encrypted communication for privacy |
| 19 | Content Control | Controlled by organizations and individuals | Less control, often decentralized in nature |
| 20 | Data Protection | Focuses on protecting sensitive information | May lack data protection, leading to breaches |
| 21 | Research Value | Holds valuable academic and research data | Limited research value, mainly due to content |
| 22 | Community | Includes online forums, intranets, etc. | Hosts online forums, marketplaces, and more |
| 23 | Information Depth | Contains deep databases and archives | Contains hidden and obscure information |
| 24 | Knowledge | Offers professional and academic resources | Mostly misunderstood due to a lack of awareness |
24 points showing Deep Web Vs Dark Web
Deep Web Vs Dark Web comparison chart
Are you already familiar with the definition and contents of the Deep Web?
Even though the term may sound full of negative and dangerous things, actually the deep web is a collection of websites that contain confidential information such as someone's specific data. So, the contents of the deep web are data that cannot be accessed by the public because they can be misused.
The deep web even has benefits such as protecting one's sensitive data such as credit card information, bank accounts, and so on. Up here, surely you don't think of the deep web as the dark and gloomy side of the internet, right? So this article, I hope it's useful, huh!