How to submit a website sitemap in Google search console?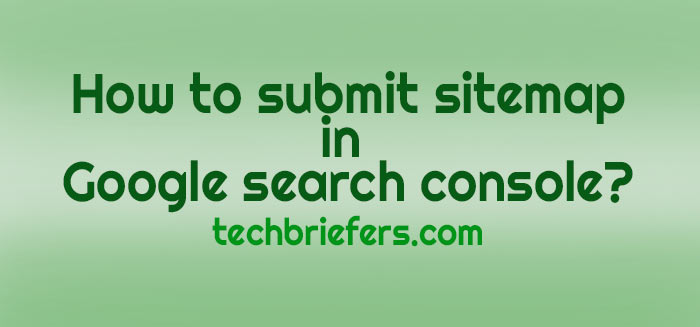 After creating a website, the first thing that comes to our mind is how to show your website in the Google search engine. Connecting the website to the search engine, in the beginning, feels very hard. Actually it happened to me too when I started blogging. I used to think that how to show a website in Google search results. But today it is very simple for us. You do not have to pay any money to show your site in the Google search engine. You can submit your website from the Google search engine for free.  What you just have to do is some hard work. Let's know how to submit a website sitemap in Google search console.
In this post, we will talk about how to submit a website or blog sitemap to Google search console. Our website gets good results when we submit the sitemap to the Google search engine. After sitemap submission, sitemap gives Google a summarized data of our website and pages of the website. And then Google can efficiently crawl your website. Actually, by doing this, there will be ease of indexing our website pages by the Google search engine. And this will result in making the website to be a part of Google search results easy and fast.
What is Google Search Console?
"Google webmasters" is actually called Google search console. This is a free service by Google. This gives you the services to control the data of your website in the search engine, what you have to show in the search engine and what not to show. You can do the setting on GWT (Google Webmaster Tool); I will tell you more about this in future articles. So, making this post not so long let me come to the topic and know – what are sitemaps.
What are Sitemaps?
A sitemap is an XML file in which all the URLs of your website or blog are arranged sequentially in one place. The sitemap helps in showing the URL of your website in the search engine. It can be said that a sitemap is a short index of all the posts, pages, and links of your website. In which the search engine can easily search the URL you need, this is a very small file comprised of all the URLs of your website.
How to create a Sitemap for Blog?
There are many online tools on the internet that are quite useful to create a sitemap for the website. There is different sitemap generator for WordPress and blogger. However, you can use those online tools for those applications too, for submitting in the Google search console. But in the case of blogger, the hosting is different, i.e., not self-hosted so the method is different. I will discuss this further in the series.
How to submit website Sitemap to Google Search Console
To submit the sitemap of the website to the search engine, you will have to access your Google search console account. It is absolutely free service by Google which can give your website a good ranking in search results. I am explaining the steps to submit the sitemap to Google in the description below
Step 1:
First of all, make a sitemap of your website. To do this you can visit any online sitemap generator like xmlsitemapgenerator.org.
Download the sitemap file and upload it to your cPanel.
Step 2:
If you have not added yet, add your website to Google search console using Add property option in search console.
Log in to the Google search console and click on the URL of your blog.
Now click on "Sitemaps" in the index section of the left sidebar.
Step 3:
You will get a form with the title "Add a new sitemap". You will have to enter the URL where you have saved your sitemap. If you have saved a sitemap in the root directory with name sitemap.xml (which is very common), then you need to enter "sitemap.xml" in the form field.
Example:
The form you will get
https://techbrifers.com/_____________________
Enter the value sitemap.xml and click on Submit
Step 4:
After clicking on Submit Button, you will get a popup saying "Sitemap submitted successfully". Click on Got it button in that popup. Now you can see the sitemap in the list below the form.
If you see "Pending" written in front of the sitemap name that means you have just added a sitemap to GWT and it will take a little time to activate, nothing to worry about.
Step 5:
When the sitemap of your website becomes active, Google will index all the URLs mentioned in that sitemap. Now all of the URLs of your website added in that sitemap are ready to get indexed. However, this indexing will take some time to become visible for you and users.
After the sitemap is activated in the Google search console, the Google search engine will start indexing your blog posts, pages, images, and videos. This will start getting visitors to your website. If you have any problem with adding a sitemap in Google webmaster or you want to ask me something then mention your question in the comment section below.
Finally, if you get any help from this post, subscribe to our website, from which you will get information about our new post and if you want to join us on social media, then follow us on Facebook and Twitter.
Also if you like this post, then share this post with all your friends on social media so that someone else in need of help that too can read this post.