How to Create a Free and Easy CV Online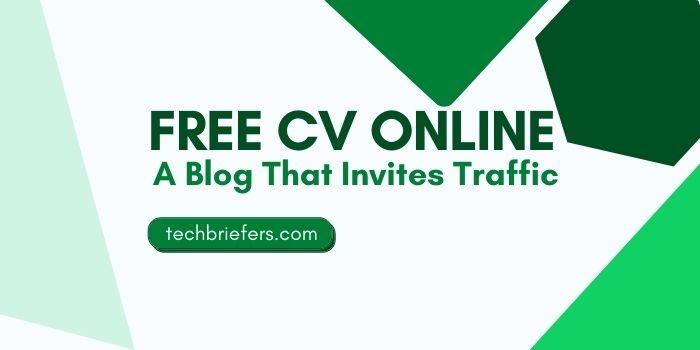 You need to know that HRD or recruiter does not only look at a person's work experience but also checks the correct Curriculum Vitae (CV) format. With a neat, attractive, and clear CV arrangement, it certainly makes HRD want to read it in detail. So you have to start fixing it and try to make a free CV online through the following website recommendations.
Create a Free CV Online
Previously you need to understand first, Curriculum Vitae (CV) is an important document about yourself that contains work experience in academics.
Generally, this CV includes information such as work experience, achievements, awards, scholarships, courses, research projects, and work publications.
A CV is two or three pages long but can be long for middle or senior-level applicants as it serves as an outline of one's career achievements.
In making a CV, make sure it meets the standards of the Applicant Tracking System better known as ATS.
The reason is, many employees currently use the software or software to help carry out the employee recruitment process.
However, you no longer need to be confused about making this ATS-friendly CV manually, because there are lots of free online CV maker websites.
Also read: How to Write a Blog That Invites Traffic
Recommended Free Online CV Maker Website
Here are some websites that you can use to create a free CV online:
The most popular website for creating a free CV online right now is Canva. Besides being free to use, Canva also provides hundreds of designer-made templates that you can use to create a CV.
The existence of these varied and unique choices, of course, makes you able to adjust to your interests and needs in making a CV.
This CV template will make it easier to create a CV because later you just need to input some personal information into the format provided.
Although Canva is not specifically designed for CV creation, this website includes a variety of templates, layouts, and attractive designs to choose from.
In addition, you can also choose several download formats to ensure that your CV can be seen and taken by ATS.
The next website to create a free CV online is Indeed. Through this website, you can create a CV quickly, easily, and simply.
In addition to the ease of making a CV, you can also directly share or send it to several recruiters on Indeed automatically.
So, if you have finished creating a free online CV on Indeed, then immediately upload it to the site so that it can be exposed directly to recruiters.
Although there are not as many template options as Canva, the advantage of creating a CV through Indeed is that you can directly connect with recruiters.
Creating a free CV online on Indeed also requires no login or registration. You can directly fill out the information form that is already available.
Then, other additional information tables are quite complete, starting from awards, certifications, links, to groups.
If you have filled in all the data, then you can choose several design templates from 10 simple and minimalist categories.
Zety is also one of the best free online CV creation websites because it provides a variety of templates to choose from.
You can easily and quickly enter some information into the CV format. In addition, Zety is also easy to use even for beginners. Because there will be a step-by-step guide to the process. 
The thing you need to do to make a CV through the Zety website is just fill in the information. And you can do it right away. 
For those who want to get a free CV, click download on the left tool. After reaching the last step, select plain text (.txt).
This website for creating a free CV online also provides tips and instructions for filling out content. As well as customization options to ensure whether it suits your needs or not.
With Resume.com you can create a free CV online in just minutes. This free CV maker website is an excellent choice.
In addition, this website also has popular templates for various job categories. So that it makes your CV stand out from the competition for job applications.
In order to be able to use it for free, you can do this when you are in the final stages of making a CV.
When a pop-up appears to create an account, replace it by clicking skip for now. Then in the upper right corner, just click the download button
Then there is Venngage which can be a website of choice for a free CV online. Venngage has many editing tools.
Making it easier for you to set or modify the design layout in the CV. Apart from that, you can also add graphs, pie charts, and some icons to your CV.
You can download your CV in PDF or PNG format. However, unfortunately, in order to be accessed online and for free, it is necessary to create an account first.
Standard Resume is also one of the best free online CV websites because it can directly retrieve some information from LinkedIn, thus saving time.
Apart from that, the white background and the availability of several minimalistic features allow you to focus on what really matters when filling out content.
Before proceeding to download the CV file into a PDF, you can also switch the write and design options first so you can see the preview.
Another advantage of this free CV maker website is that it is mobile responsive. So that you can easily view and access it via a smartphone.
The last website for online CV is CV Maker. On this website, you can find many design templates with a simple feel. 
Additionally, the CV creation flow is also easy to use or user-friendly. In the manufacturing process, you simply fill out the information form, choose a design, then download the CV file immediately.
This CV Maker provides various file formats such as PDF, HTML, to TXT. So, CV can be more ATS friendly.
Also read: How to Earn Money from the Internet Easily and Fast
Tips for Creating an Online CV
For those of you who want to make a free online CV through some of the website recommendations above. Then consider the following tips:
1. Make sure to provide a tagline in your CV
Make sure to create a CV that can immediately catch the recruiter's attention by telling them about the field you are good at. One of the best ways to do this is to include a tagline at the top of your CV.
Usually positioned just below the name, this is basically an elevator pitch or a brief statement summarizing work experience.
2. Use the Right Language
The use of language used in the CV should also be noted. Not just using the right phrases, but also adjusting the tone of voice.
The type of language you use will vary slightly, depending on the type of job you are applying for later.
However, overall, the language in a CV should be professional, smooth, and concise. You should avoid long and overly complex phrases and sentences. This would be considered long-winded. 
3. Use the Correct Chronological Order
You should also list your work or academic experiences in correct chronological order. This ensures that recruiters see the most recent and relevant job history.
4. Highlight Skills You Have in the World of Work
Not only excelling in academics, usually, a company will also look at certain skills and qualities because they are considered to be able to meet the criteria for the position applied for.
5. Ensure ATS Friendly
Finally, also make sure that the CV that you make is ATS friendly so that it will be easier to track by the system and increase your chances of getting noticed by recruiters. In addition, make a CV with a clear and detailed layout and information content.
Start Creating a Free CV Online Now!
So, there is no need to do it manually and input data one by one. Now by using one of the website recommendations, making a free online CV above all becomes easier and simpler.
In just a matter of minutes, you can create a free CV online. Some recommendations for websites that can be accessed for free, such as Canva, Make CV, Standard Resume, Indeed, and others.