Expert Advice on How to Choose Web Hosting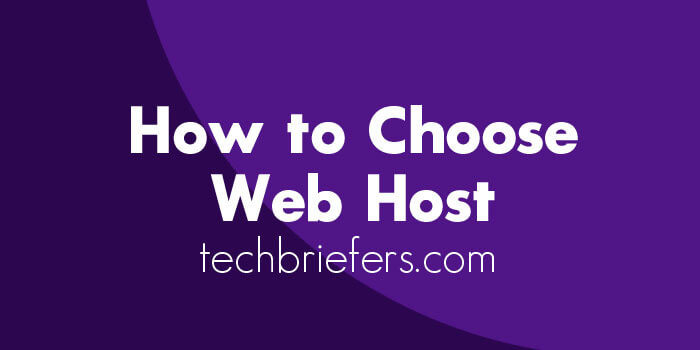 Web hosting is a primary thing for any website. If a site is not hosted online on the web, it will not be accessible to ordinary people. With web hosting, the site can be visible, accessible, referenced, used and above all exploited by its creator to generate income or increase its presence in a segment.
The choice of a host should never be taken lightly because it will have a significant impact on the reputation of the site. By choosing a well-known and reputable host, the customer will have peace of mind and will see their site work wonderfully. No inaccessibility errors, no down period, technical service very attentive… etc.
And similarly for the other side of the equation, by taking an unreliable host, the site will quickly find itself leaked by its visitors. Nobody wants to visit a site that is not working because of the host which is experiencing slowdowns or crashes.
How to choose web hosting
The choice of web hosting must be taken very seriously by the person who wishes to launch a website. To help you with this quest, here are some tips for choosing an excellent web host.
1. Understand and define the needs for web hosting
The first step in any project is to understand and define the needs. In the case of hosting a website, the needs focus mainly on the type of site you want to develop.
For example, a blog will not need a very large storage space, but will need a very large bandwidth. A forum will need a lot of storage space for the media, unless you decide to use online storage platforms. An e-commerce site will have a large storage space, a very large bandwidth, a large processing power… etc. to process thousands of requests to databases, online payment systems (PayPal, Skrill, Visa, Master Card, etc.), data encryption, and much more.
Also, you need to know if you will need third-party tools like CMS (WordPress, Joomla… etc.). These kinds of tools add an extra layer to the system, which can slow it down in some cases.
2. Find web hosts with the right migration options
Nobody likes moving. Too much work, too much preparation, the problems of finding a new apartment and a means of transporting the business… etc.
These same problems also apply to web hosting. You have to look for one with the right policies and tools for migration to and from your platform. It is important to plan this because you may find yourself in the event of migration to another web host. Nothing is taken for granted in this world, and everything has to be planned.
3. Investigate the history of technical support
Technical support from a web host is very important. If you have a problem, you are the one to turn to for solutions. Therefore, it is very important to look for a host with competent technical support, but above all always available.
Turn to providers with hotline teams available 24/7, and above all, do not hesitate to go to the forums to read the opinions of the host's customers on the quality and professionalism of its technical teams.
Indeed, even if the support is available in H24, but it is not of the trade, you will waste your time and your money to solve a simple problem like the permissions of access to a folder.
Also, avoid hosts that only offer support via e-mails. Choose those with instant messaging and phone calls. For everything else, you will be wasting your time with tickets that will take at least 24 hours to receive a response.
4. Check security policies
Very important aspect of a web host, and its ability to protect itself, and at the same time protect you, from outside attacks. The host must provide protection services against viruses, malware, DDoS attacks, etc. You can find an overview of these services here , and it is very important to choose a host that offers the highest level of security on the Internet, to assure customers that their data is in good hands.
5. Reliability
The reliability of web hosting comes in the form of the availability of its machines, that is to say how long a year the machines run or are available.
For example, a host that offers 100% availability means that its machines (or servers) run 365 days a year, non-stop. A host that offers 98% availability indicates that its machines run 357 days a year.
If you choose the 2nd host, the one with 98% availability, your site will not be accessible to the public for 8 days each year, and it is not anything for a week.
6. Price for web hosting
The price must also be studied to avoid spending too much each month. Regarding the price, it is almost identical to all large hosting platforms on the net. The difference lies mainly in the reputation of the host and the services offered.
Sometimes you can benefit from reductions if you take 2 or 3 years of subscription. But beware, you should not take the cheapest at the expense of the services offered! Keep in mind that the price always reflects the quality of the product offered.
With these tips, you will be able to choose your web hosting so that it fully meets the needs of your site. Whether showcase, e-commerce, blog, forum, each site has its specific needs which must be provided to ensure proper functioning.
It sounds complicated, but you just have to devote the time necessary to find the right offer that combines all the criteria such as price, type, services, features, etc. You should never be in a hurry to make such an important choice, and that goes for all the choices you make in life.