BlogSpot (blogger) Vs WordPress: Which is better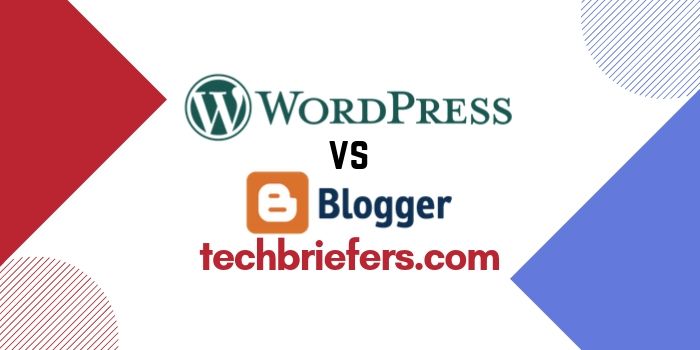 Before we start blogging, it definitely comes to our mind that which platform is better for blogging and what should I blogging on. So here, today we will talk about this dilemma and learn that on which platform we should start blogging. This article is about BlogSpot Vs WordPress or say Blogger.com vs WordPress and lets you decide which one is better.
We have very good options like WordPress, blogger (BlogSpot) and some other options too.  This time we will focus on these two platforms compare to find what is good for blogging.
WordPress and Blogger are both the most widely used and famous options.  And it is very difficult to clearly say which one is better. If we compare on the basis of the ranking, popularity and on Search engine performance, WordPress is much better than blogger as people like WordPress more because WordPress provide many more features than those available in blogger.
If someone asks me from whom should I start WordPress or blog, then my answer would be that you use blogger at least 3 months in the beginning because it is absolutely free and simple, you can manage it easily when you blogging If you understand it well then you can shift from blogger to WordPress.
I too have used blogger and but for some reasons I will describe below, I prefer WordPress. It may be difficult for you to start, but slowly you can learn everything with the help of other bloggers sharing a lot of information. Let's get back to the point, and then you can choose any platform by yourself.
WordPress or BlogSpot Which Platform is Right and Which Platform to Choose?
Let's Know the differences and reach a decision.
Why choose WordPress?
WordPress gives you complete control over your blog. And you can manage the blog on your own. That is, you can do anything on your blog, you can host your own file, you have full control over SEO, you can add any plugin of your choice which makes your blog, even more, search engine friendly.
It has unlimited features and you can always use the latest plugins. In simple words, you can manage WordPress as you like. WordPress gives you the freedom to do whatever you want. You can also migrate your blogger blog on WordPress very easily in a few minutes. This lets you move all the posts of your blogger blog to WordPress blog. If you want completely free WordPress, you can use wordpress.com with restricted features. But what I really do not like and prefer bloggers for this case.
Why choose BlogSpot/Blogger?
The most important thing is the blogger is absolutely free. It is very easy to manage. When you start blogging, BlogSpot is the best platform to learn to blog. Whether you want to start a personal blog or you just want to share your ideas with people blogger is there for you. And if you have no information about how to earn from blogging, then you can use blogger. This is the reason is that you have limited control over visibility in the search engine.
Compared to WordPress, you have limited features in blogger. To get listed in the search engines, it is not important on which platform you are blogging. Instead, it depends on what topic are your articles based on. And how have you submitted your website to the search engine?
There are so many bloggers that use blogger/BlogSpot and get most of the views from the search engine. Even the new posts get to show in the search engine within an hour. So it is just a rumor that the search engine relies less on the BlogSpot/ blogger.com.
If you do not know much about blogging and now you have taken the first step in blogging, then I will suggest you that you chose the blogger because it's free.
Why not start with WordPress for Blogging?
The main reason for this can be that WordPress is not completely free and you have to pay for many plugins. If you do not have any knowledge of blogging and WordPress, it will be very difficult to manage WordPress. There is an abundance of features in WordPress this will make you face a lot of problems to manage.
One more thing is, if you have less money and you start taking WordPress hosting in the beginning then it will not be a good decision. There are many successful bloggers those started from blogger, so I would like to tell you once again that until you become efficient in blogging and have a tight budget, do use blogger for some time.
BlogSpot (blogger) v/s WordPress for new blogger:
Blogger is absolutely free whereas WordPress contains paid services.
Because of the limited features in Blogger, you can easily manage it while not in WordPress.
Blogger is a free way to learn to blog that you cannot do on WordPress.
Blogger is a simple platform and WordPress is amazing and feature-rich.
If you want to do simple blogging, then blogger is right and if you want to do business then WordPress is the top platform for it.
For the people who do not want to spend money, the blogger is better whereas Free WordPress is not that good.
Blogger does not require any hosting whereas WordPress needs to get hosted if you are not using a free wordpress.com account.
If you want better control on your blog, go for WordPress.
If you want completely free blog go for Blogger
Final Thoughts
I hope that with the help of this article, you will be able to choose the right platform for you and your confusing will go away on which platform you should be blogging and what is better for you, so now let's throw a comment about what your plan is. And what do you want to blog on?
If you want to ask any question related to internet or blog or if you face any problem in understanding this post, then you can tell me in the comment right now, I will be happy to help you.
Also, Read