Top 5 Online Photo Editing Tools for beginners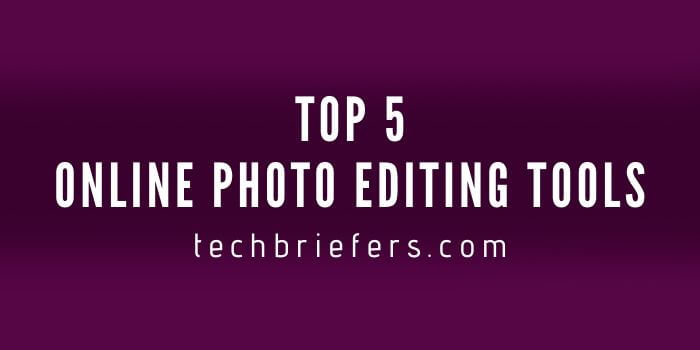 Today in this post I am going to tell you about some of the best online photo editing tools which you can use to edit photos online without using Photoshop. This post will let you know about the Top 5 Online Photo Editing Tools useful to edit photos online without using any desktop software or tools. These are actually web apps. You can also call them as Top 5 Photo Editing websites. So let's explore.
If you use a mobile phone, then you get a lot of free apps on Google Play to edit photos, but if you use a laptop PC or desktop and you have to edit photos, you have a lot of options to work with.
So if you have to edit a photo on a laptop computer or desktop and you do not use any kind of software. Then by following this post today, you can easily edit your photo online without using any software. Below is the list of the Top 5 tools available online to edit photographs without hassle. You can use these web apps to edit photos without much knowledge or any software tools.
Top 5 Best Online Photo Editing Tools Online
#1: Pixlr.com
Pixlr is one of the best online tools /websites to edit photos online. With this tool, you will get all the features that a photo editor should have. In pixlr you will get a nice editor room where you will never feel that you are using a tool online, you will always feel that you are using the software itself. This is a very feature-rich application.
Pixlr is a very feature-rich tool. I have so many features available. If I will list all the features, the post will be dedicated to this tool only, although I am listing a few. For example Crop, Text, Filter, Retouch, and Cut-Out, Effect, etc. There are many more features and tools available in this application. When you will use it, then slowly you will get to know about all the tools and what their work is.
# 2: Photopea.com: photo editing tool like photoshop
If your PC does not have Photoshop software and you need a photo editor like Photoshop. Then I am sure that this tool may be the best suitable option for you. By looking at this tool, you will feel that you are using Photoshop itself.
You can also say that Photopea online tool is an alternative to Photoshop. As, in this app, you will get almost all the features that you get and use in Photoshop. The tools Photopea provides in its editor are – Move, Crop, Lasso, Pen, Eraser, Brush, Blur, Text Tool, etc. There are many other tools that you will get to see while using this application.
Using Photopea online tool will be left smiling because its feature is exactly like Photoshop, so if you have a lot of Photoshop then it will be easy to use or not.
#3: Photocat.com: Top photo editing website
Photocat is also the best online tool for editing photos online. This editing tool is a little different from the other. You can edit your photo, in the way you want to, through this tool.
If you want to write your name in the photo, then you can also write, i.e, Add text to your photo. in this tool, you will get three different features Photo Editor, Retouch, and Collage Creator. This means you can create a collage of your photo along with photo edit with this tool.
It is very easy to use this application. You only need to browse photocat.com. After that, when the website will be loaded completely, go to the photo edit option and open your photo from the computer and start editing it.
# 4: Photofunia.com
This is also a great photo editing tool also available in the Android application form. If you are an Android phone user, you can get its mobile app from the Google Play Store. Then you can install Photofunia from the sore and use it for free. This app is also available for almost all platforms.
However, today we are talking about online photo editing tools. That is why photofunia is also included in this list today. In this tool, you will get some unique features that are not available in any other tool.
In all the online photo editing tools we have talked about earlier, you will have the option to edit it like Photoshop. But photofunia is slightly different. In this app, you will get only and only photo frames. That means you can only use this online tool, to put photo frames of different designs in the photo. Using Photofunia is very easy. Just Browse Photofunia.com, then select the type of frame you like and upload your photo from the computer.
#5 Pizap.com: One of the best online photo editing tools
In today's list, the last online photo editing tool that is available is called Pizap. If you want to make Art photos for your YouTube, Cover photos for Facebook, then according to me Pizap is the best. There are many such features available in it, which you will not see in any online tools above.
Using this online tool, you can Crop, Blur any of your photos and write text in the photo. This is the reason that you are also getting the option of Collage in this tool, using which you can also make your photo collage.
Under this tool, you will also get the option to clone the photo. If you run a Facebook page and for that, you want Memes, etc. Then you can also make a meme using this tool. It is very easy to use it, just click on the link below or, visit pizap.com, then start your photo edit, slowly you will know about all the features yourself. This app is also available for Android and Windows.