Google blocking 18M spam coronavirus emails every day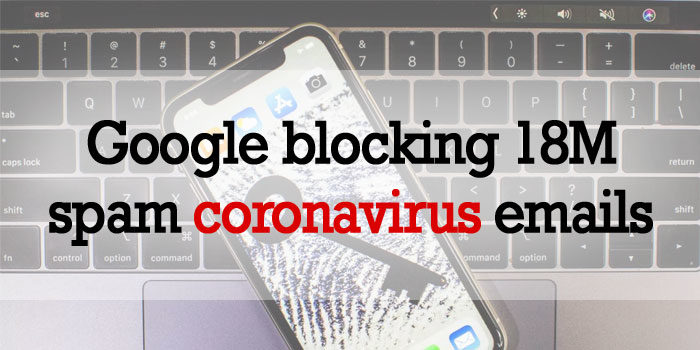 Yes, Google identifies more than 18 million malicious/spam emails linked to the coronavirus pandemic every day.
Google says hackers are using fear to try to extract vital personal information from you.
Some phishing attempts take the form of messages delivered by the WHO to trap their targets. On Gmail, Google's email service, 240 million COVID-19 spams would be automatically blocked every day.
The health crisis and the general confinement linking to the current COVID-19 pandemic. And are like open doors for some opportunistic and malicious hackers.
From this point of view, Google and its e-mail service, Gmail, are not outdone. Just last week in the United States, the Mountain View company noted the automatic blocking of emails. 18 million daily phishing or malware installation attempts by email linked to the COVID-19 coronavirus.
According to Google, it will send 240 million spam emails in total each day using it as an entry subject. According to Google, this new trend is actually just a new disguise of old methods. As a reminder, Google's Gmail is blocking 100 million phishing emails every day.
The cyber attackers are using "scare and financial troubles tied to the current crisis to create a sense of urgency among their targets".
Obviously, most of these malicious messages attempt to trick the recipient. It tricks by inducing them to give money to an institution. Or to download a supposedly capital file from his employer.
Google services have identified four types of the angle of attack. The first takes on the appearance of institutions like the World Health Organization to encourage the target to download fact sheets. That turn out to be malware or Trojans.
Two other types of malicious e-mail disguise themselves as an employer asking employees in telework to provide information or to pay money to a fundraiser in order to steal information from the target.
Finally, a final angle of attack takes advantage of the fact that it forces certain companies. It foces to modify their activities during periods of confinement. And social distancing to force them there too to send money or information.
Google has in particular encouraged the WHO to provide its security system for DMARC e-mails. This will be for "Domain-based Message Authentication, Reporting, and Conformance". The latter should prevent hackers from using the WHO "who.int" domain name. And prevent real WHO messages from being automatically treated as spam emails and Conformance.
Also Read
Top 10 Upcoming Web Designing/Development Trends 2020
Allow IP in AWS security Groups RDP connection